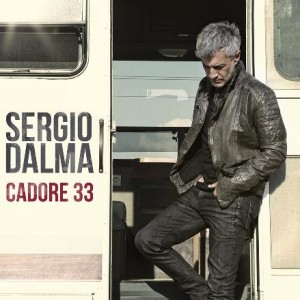 His voice is unique and instantly recognizable, and his ability to convey pure emotion in his music draws the listener in from the very first word of every song. In this album, he has put together a bunch of songs that complement each other perfectly almost as if they never should have been apart.
Sergio Dalma has just released the sixteenth album of his career, Cadore 33, which features twelve unreleased songs. The album was recorded in Milan under the production of Claudio Guidetti accompanied by a select group of brilliant Italian and Spanish musicians. Its name comes from the address of the studio where the songs were recorded which was located in the number 33 of the street whose name is Cadore.
Cadore 33 is dedicated to love and the great parts of falling in love and the not so pleasant parts. All the songs from this poignant album illustrate Sergio's powerful storytelling abilities and his unique transparency to share both the beautiful and tragic moments of life. No doubt he has poured effort and honesty into this album proving his musical talent on every track with dynamics and powerful lyrics to make the listener grasp the emotion in each verse.
There are very few artists out there who are as intelligently introspective as he is and this is the perfect album for him now because it evokes all of the qualities that make him who he is as an artist.
The first single from Cadore 33 is Si Te Vas, an intense ballad that is tailor-made for him, whose video is almost a thriller with the inevitable romantic touch. This song proves that he is still able to innovate and create something special. In the album we can also find a version in the Catalan language.
Volar Sin Ti is a master piece. Listening to it is like standing on a cliff edge believing you can take flight at any moment. It is a carefully produced musical track full of inspiration and with a great orchestration.
We also find rhythmic compositions such as Eres Oro, Recuerdo Crónico, which is the catchiest track of the album, or Tú, Mi Bella which is a song of admiration where the singer compares the most exquisite beauty with the person who is next to him.
La Aceleración provides an example that he could sing almost anything with that deeply melancholic, beautiful voice and make it sound like heaven. Another example might be Contigo En El Camino where his hushed tones don't leave a feeling of something missing, but have the completely opposite effect.
Si Fueras Mía and Un Preso En Tus Labios are the best ballads of the album, containing vivid boardwalk imagery and an evocative musical backdrop where again Sergio assumes the guise of storyteller, and his gift is in creating characters and situations that we care about deeply, all with a refreshing air of innocence that can only be found in his early work.
He arguably saves the best for last with the brilliant track Hay Vidas, which begins with a nice harmonica intro but like the album itself it comes as a most pleasant and satisfactory surprise.
You might also like to read: