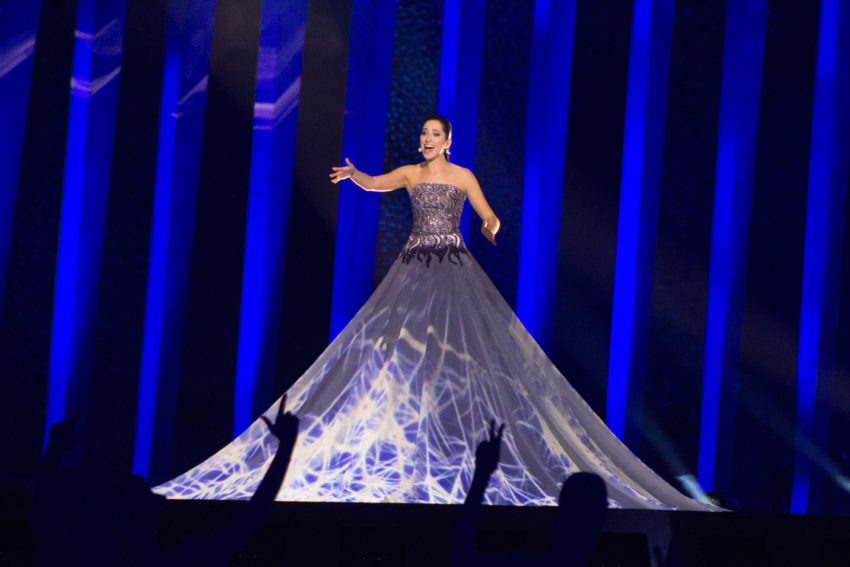 The Estonian soprano, Elina Nechayeva, is back! On her new release "La voce dell'alba", she delivers exactly what we have grown to expect from her and her amazing voice. It's hard to describe this as anything else than just beautiful.
I admit it. I don't know much about opera or what genre this is, and I don't understand the Italian lyrics more than just a few words here and there. I would, under normal circumstances, disqualify myself from writing a review of the new song La voce dell'alba from 2018 Estonian Eurovision participant Elina Nechayeva. But here I am, a Sandinavian pop Eurovision fan listening to a song I don't understand and in a genre, I know absolutely nothing about. I am moved by the song, I like what I hear – and that's all I can go by here.
To my untrained ear, this is opera, but in a lighter version than what I from time to time have heard when zapping through a opera shown on TV. I don't know how else I can describe it, and I hope the ones who knows this genre will have me excused.
La voce dell'alba (The voice of dawn) is beautiful and Elina's perfect voice almost makes me wish I actually knew this genre better than I do. I say almost because after listening to this song three times, I know that I couldn't do with an entire album like this. But one song at a time – that I am able to appreciate and love. And I do love this one. With too much stress going on in my life at the moment, Elina's new song calms me down. It's three and a half minute where I can exclude everything else and just focus on this.
Not understanding the genre nor the lyrics, all I can go by is that simple: How does it make me feel? And I can tell that La voce dell'alba does some good for me. To me it sounds beautiful and it makes me able to get a bit of rest and just let go. That is, on the first two listenings – on the third one, I am just confirmed in what I knew beforehand; this isn't a genre for me to explore deeper than just scratching the surface. But I am happy scratching a bit when I can listen to songs like this.
4 out of 5 stars from me.
What does this song do to you? Listen to it in the video below to judge for yourself:
Elina Nechayeva at the Eurovision Song Contest
This genre is not heard often at the Eurovision Song Contest, and most TV viewers doesn't understand it any better than I do. Back in 2018, it was therefore hard to predict just how well La Forza would do. It turned out that untrained people were able to relate to it as I can – if not exposed to too many dozes.
Estonia and Elina reached the final with a 5th place from her semi-final. In the final, she ended up a combined 8th place with 120 points from televoting and 81 from the juries. Elina Nechayeva received the maxiumum 12 points from the Swizz jury, and three times from TV viewers; from Lithuania, Finland and Portugal.
You can remind yourself of Elina's Eurovision entry in this special live version from Eurovision Village 2018 in the video below: