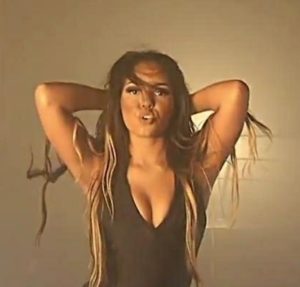 Zoë Alexis follows up her popular song, Fire, from the Ireland Eurosong final with her new release. It is called Steady As You Go and it is composed by Willie Weeks who was one of the writers of Fire.
Zoë Alexis was one of the hot favourites to win the 2013 Irish Eurosong with her entry, Fire. The song was popular with fans and in clubs and Zoë released a colourful and glossy promotional video to accompany the song. She eventually missed out on winning the contest to Ryan Dolan, and Only Love Survives, but a lot of fans have been patiently waiting for her follow up single.
Now the waiting is over and Zoë is back with her brand new song, Steady As You Go. It is a pop song with a r'n'b flavour to it. Again Zoë has produced a cool and sexy promotional video for the song where she also takes to the boxing ring.
Zoë has toured Ireland for concerts and has been on stage with her personal friend, Niall Horan, of One Direction. Zoë was a member of Irish Girl group UnderGrounD and they were awarded Best New Girl Group in 2010 at The Irish Entertainment Awards. Zoë was also spotted by popular American songwriter and producer Timbaland. She is in big demand as a singer and model and for the second consecutive year she is the ambassador for The Share A Dream Foundation and is the current 2013 Diva Next Door Calendar Girl. 
You can see the video for Steady As You Go below.
You may also like to read –