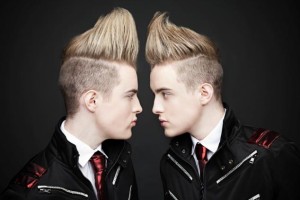 Since Jedward catapulted to fame on the UK X Factor they have been constantly busy including two appearances at the Eurovision Song Contest in 2011 and 2012. They are now recording the third season of their tv show, Jedward's Big Adventure, as well as preparing for a concert tour of Australia.
Jedward became popular on the 2009 edition of the X Factor in Great Britain.  They finished in sixth place in the tv series and are managed by their mentor, Louis Walsh.  The identical twin brothers, John and Edward, have since gone on to huge celebrity success in music and tv.  They have had several hit singles and albums around the world and also appeared in Celebrity Big Brother in the UK.
The brothers of course took to the Eurovision stage in two consecutive years representing Ireland.  In 2011 they took Lipstick to 8th position in Düsseldorf and in 2012 they were back with Waterline in Baku and finished in 19th place.
The boys are currently recording the third season of their popular CBBC tv series, Jedward's Big Adventure.  They visit various historical sites around the United Kingdom. Then they are teamed with various celebrity guests and learn about each site they have visited. The brothers then become travel guides and put what they have learned to practise.
Jedward are also preparing for a tour of Australia that will take in The Regal Theatre, Perth on 23 November, The Palais Theatre, Melbourne on 30 November and The Enmore Theatre, Sydney on 1 December.
You can see the video for Jedward's single, Young Love, from the album of the same name below and for more information you can visit their official website.

You may also like to read: