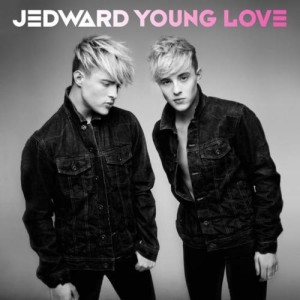 The twins are about to release their third studio album which features up-tempo songs such as their Eurovision hit Waterline as well as the song they co-wrote called Can't Forget You, among others. Dates have also been announced for Jedward's next Irish tour.
John and Edward Grimes who recently represented Ireland in this year's Eurovision Song Contest with the song Waterline are gearing up for the release of their new album Young Love. It is due for release in Ireland and Germany on June the 22nd, in the other European countries on the 25th and it will be available also in Japan and the USA (in digital format only) from June the 26th. Meanwhile, the song that gives name to the album will be available worldwide on iTunes next Friday.
The album is headed by Jedward's newest single and Eurovision entry Waterline and, so far, they have unveiled several new teaser clips for tracks from their third studio album. The track list will be as follows:
1. Waterline
2. Young Love
3. Whats Your Number
4. A Girl Like You
5. Luminous
6. Give it Up
7. Happens In The Dark
8. All I Want is You
9. What It Feels Like
10. How Did You Know?
11. Can't Forget You
12. P.O.V
13. Never Better
14. Cool Heroes
15. School's Out
As always, the twins have a few big surprises up their sleeves for this summer tour and fans will be thrilled by the show that they are going to perform for them. The tour title will also be Young Love and fans can expect a taste of Jedward's latest hits from their new album but they will also be treated to all their favourite hits to date. You can catch the Jedward Young Love Tour 2012 at the following venues this summer:
June 20th: Cork – The Marquee
July 1st: The Rhythm Fest in Dungarvan
July 5st: Mount Errigal Hotel in Letterkenny,
August 7th: The INEC Killarney
August 10th: Royal Theatre Castlebar
August 14th: Wexford Opera House
August 15th: TLT Concert Hall & Theatre Drogheda
August 16th: The Mullingar park Hotel
August 22nd: The Millennium Forum Derry
August 24th: The UCH Limerick
Tickets are currently on sale through Ticketmaster.
Below you can watch our 3D video of Jedward performing their 2012 Eurovision Song Contest entry Waterline. As always, we strongly recommend watching this video in 3D, as it was recorded, to enjoy it to its fullest, but if you do not have a pair of suitable glasses (that can be bought at our 3D page) this can easily be turned off in the player below and watch it in regular 2D.