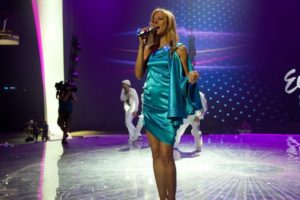 The Hungarian entry this year is apparently dividing fans of the competition, with some convinced that she will storm to victory, whereas others are certain that she'll fail to qualify, becoming this year's Kate Ryan.
One thing is certain – with little footage available, Kati's rehearsal is without doubt a baptism of fire today, with huge expectations surrounding her performance.
A mezmerising backdrop effect with pulsating turquoise lights in various formations against a black backdrop complement her choice of outfit fantastically. Kati takes to the stage wearing a thigh high asymmetrical azure silk creation, and a blue brooch and ring that reflect the light. She certainly doesn't come across as a wolf in sheep's clothing, being every bit the diva. Her dancers and backing singers however have lights incorporated into their outfits which light up halfway through and look unfortunately rather tasteless. The dancers are dressed in white, one wearing a white suit with trilby, the other two in more casual attire. Her backing singers are dressed in similar colours, matching sequinned silver skirts and tops.
The staging was in certain places unsuccesful and in dire need of attention – the part where the dancers bound in onto the stage and do various acrobatics behind Kati is downright disturbing. Although Kati's performance is overly static, it does improve greatly towards the end, with her parading around stage and doing a few pirouettes.
Vocally, Kati definitely delivered the goods. She was clearly saving her voice, as she was not projecting as much force in some of the more demanding vocal parts, but on no account did she sing off key as many would have feared. All in all, it was a most impressive first rehearsal which was well received in the hall. Her presentation put all speculation about her vocal capabilities to shame. 
In my view
Following Hungary's first rehearsal, it's clear to see why Kati draws comparisons to Celine Dion. Judging her purely on her performance today, she should qualify from her semi with ease, and as it stands at the moment should be one of the contenders for the top spot.

The opinion expressed in "In my view" are those of the author and are not necessarily the one of EuroVisionary.com.