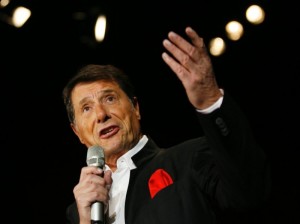 It was a case of third time lucky for sole Austrian winner Udo Jürgens, when he won the contest back in 1966 with Merci, Chérie. Since then, he has enjoyed a long and eventful career. Next month, fans and media will pay tribute to the veteran in a televised show from Berlin.
Udo Jürgens is without doubt one of the biggest names to emerge from the Austrian music scene. Not only did he give Austria two top ten placings in 1964 and 1965 with his Eurovision entries Warum nur warum? (Why, Only Why?) and Sag ihr, ich lass sie grüßen (Tell Her I Said Hello), the versatile artist has composed more than 800 songs and has sold more than 100 million records during the course of his career. His works have been recorded in everything from Japanese to Romanian, covered by artists diverse as another fellow Eurovision artist Matt Monro and even German thrash metal band Sodom.
Such enduring popularity has earned him a special place in the German speaking countries of Europe, and his achievements haven't gone unnoticed. The 79 year old has been awarded the Bambi award, one of the most prestigious prizes given by German media since 1948. His eventful career will feature as part of a special televised gala, the 65th of its kind, which will be held in Berlin at the Stagetheater on the 14th of November. He will receive his accolade together with Robbie Williams and Helene Fischer, who have been awarded the Bambi Entertainment Award and Bambi Music Award respectively. The show will be broadcast on Das Erste. 
Being awarded such a prestigious prize and considering his age, you'd have thought that Udo Jürgens would rest on his laurels. On the contrary, the star shows no signs of retirement just yet, and is currently in a recording studio, working on new material which is due for release in February, 2014. Plans have for a six week long tour at some point next year to promote his latest release have also been revealed.
You might also like to read: