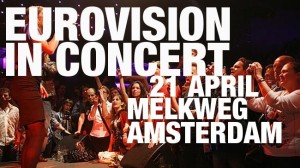 France and Belgium confirmed that their participants for this year's Eurovision Song Contest also will be performing at the warm up party, Eurovision In Concert in the Netherlands in April. A total of six countries are confirmed so far.
Eurovision In Concert takes place in Amsterdam, the Netherlands on the 21st of April. With France and Belgium now also confirmed participants the line up so far includes six acts, but more will be revealed as we get closer to the event.
Confirmed acts so far are:
France: Anggun has been internally selected to represent France at the 2012 Eurovision Song Contest. At the end of January the song Echo (You and I) was revealed.
Read more about the French entry. 
Belgium: Already back in November Belgium announced that 16 year old Iris will be representing them in Baku, Azerbaijan. The song will be chosen on the 10th of March.
San Marino: Nor artist nor song has been revealed from San Marino yet, but they have confirmed that who ever it will be, the person will be attending Eurovision In Concert.
Cyprus: Ivi Adamou was internally selected by the Cypriot broadcaster who then held a national final where the Cypriot population could choose between three songs and ended up selecting that Ivi will be representing them at the 2012 Eurovision Song Contest with the song La La Love.
Read more about the Cypriot final.
Turkey: The Turkish entry for the 2012 Eurovision Song Contest will be the relatively unknown Can Bonomo, who was internally chosen. The song, Love Me Back, was presented on the 22nd of February.
Read more about the Turkish entry.
Switzerland: The first country to have a national final selecting its participant for the 2012 Eurovision Song Contest was Switzerland. In their national final, held already December 10th, 2011, the Italian speaking duo Sinplus, won over 13 other participants including the very first Eurovision winner from 1956, Lys Assia. Their song is titled Unbreakable.
Read more about the Swiss national final.
The ticket sale has already started and should you wish to go they can be bought through Eurovision In Concert's website where you can also read more about the event.