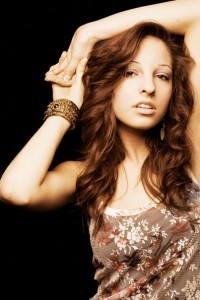 Today it was announced that the young singer Iris will represent Belgium at the Eurovision Song Contest in Baku 2012. With her age of just 16 years she will be the youngest Belgian representative ever chosen by the Flemish television.
Iris whose real name is Laura van den Bruel was discovered by the record label SonicAngel during a talent competition last year. Although there were more than 300 competitors, she won the competition and recorded her first single Wonderful which scored high in the Belgian charts. Her stage name was recently changed from Airis into Iris to avoid any misunderstandings regarding the pronunciation of the name.
Iris began to sing at a very early age. It is reported that she already loved to sing the whole day when she was a child. Her ideals are Beyoncé and Kelly Clarkson. She started out by singing cover versions and later on she wrote her own lyrics.
During the next months Iris will be prepared for her performance in Baku. A number of songwriters should be approached to write a song for Iris. The final entry is supposed to be presented in early spring.
The Flemish TV channel hopes to repeat the excellent result of Tom Dice who represented Belgium with Me and my guitar in Oslo 2010 and came 6th. This was the best Belgian result since 1998 and the first time that the country was represented in a Eurovision final since 2004.