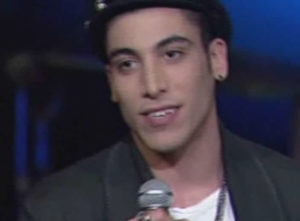 Minutes ago Can Bonomo publicly presented the song he will be singing in Baku, Azerbaijan in May tryinging to qualify for the final of the Eurovision Song Contest. The song is titled Love Me Back. 
Since Can Bonomo was internally selected by the Turkish broadcaster TRT the local medias haven't been too enthusiatic about the choice of the almost unknown Can. Last year the country failed to qualify for the final of the Eurovision Song Contest for the first time ever so pressure is on Can Bonomo to prove that he is the right man for the job.
Today it was time to reveal the song that it is all about, that song Can Bonomo will be singing in the second semi-final on Thursday the 24th of May hoping to make it to the final the following Saturday. At a 30 minutes song presentation that was broadcasted live on TV as well as on the internet the song was presented:
Can Bonomo's 2012 Eurovision Song Contest entry for Turkey is called Love Me Back. It is pop with clear etnich elements. With Turkey haven gone for rock a lot in recent years this will come quite unexpected for many fans. 
EuroVisionary has a journalist attending today's song presentation. He will later tonight provide you with a more detailed report on today's Eurovision event in Turkey.
The Turkish entry can be heard in the studio version below: