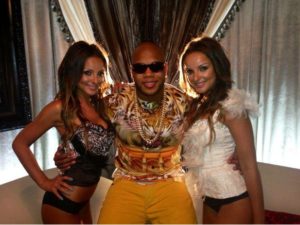 The Twiins represented Slovakia at the 2011 Eurovision Song Contest with I'm Still Alive. They have returned with a brand new single and glossy video with popular USA rapper, Flo Rida. The song is called One Night Stand and is an upbeat dance song that is set to become a worldwide club hit.
The Twiins are twins sisters, Daniela and Veronika Nízlová. The become a popular recording duo in Slovakia and Czech Republic releasing many hits including a cover of the Europop hit from Sabrina, Boys Boys Boys.
Twiins were selected to represent Slovakia at the 2011 Eurovision Song Contest with I'm Still Alive in Germany. That song was composed by USA songwriter, Bryan Todd. The song was a quality pop ballad but just missed out on making it to the grand final that year.
Daniela and Veronika had previously took to the Eurovision stage with Tereza Kerndlová as part of the Czech Republic team in Belgrade in 2008. They performed backing vocals and danced with the song Have Some Fun.
Now the Twiins return with a new hit song called One Night Stand and a glamourous new video with top recording star and rapper from the USA, Flo Rida. He has had many worldwide hits such as Can't Stop The Feeling, Wild Ones and Whistle. It is written and composed by Maury Pozzi, Alberto Ventura, Dillard Tramar with production by Simone Ermacora, Alberto Ventura and Stefy De Cicco. The vocals were recorded and produced by Maury at PozziMusic, backing vocals are by Marina & Maury.
You can see the video for One Night Stand below.
You may also like to read –