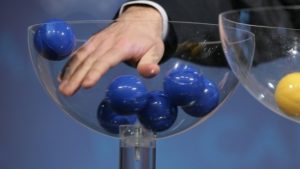 Who will compete in which semi-final? That was settled today as the traditional allocation draw took place. Now that we know how many neighbours each will have with them in the semi-final, it is time to speculate on who will make it to the grand final.
Would Cyprus and Greece be in the same semi-final, and how would the Balkan and the Scandinavian countries be split? That was just some of the questions, that we found an answer to today.
Host country Portugal and the so-called Big 5 countries United Kingdom, Spain, Germany, France and Italy are automatically qualified for the final of the Eurovision Song Contest. The remaining countries will need to go via a semi-final first. Whether we like it or not, chances of qualifying depends partly on who else is in that particular semi-final, and also who of the finalist countries will be voting in that semi-final.
Semi-final allocation draw
This is only the draw for which semi-final, and whether or not the country will be in first or second half of the semi-final. The actual running order will be decided by the producers, and approved by the EBU, after all songs have been submitted.
Host country Portugal and Big5 were also drawn into semi-finals in where they will vote, but not participate. These countries are therefore obligated to broadcast live that semi-final they are voting it.
Voting in first semi-final are: United Kingdom, Spain, Portugal.
Voting in second semi-final are: Italy (By special request), France and Germany.
| | | | |
| --- | --- | --- | --- |
| Semi-final 1 – 1st half | Semi-final 1 – 2nd half | Semi-final 2 – 1st half | Semi-final 2 – 2nd half |
| Belarus | Switzerland | Russia | Montenegro |
| Bulgaria | Finland | Serbia | Sweden |
| Lithuania | Austria | Denmark | Hungary |
| Albania | Ireland | Romania | Malta |
| Czech Republic | Armenia | Australia | Latvia |
| Belgium | Cyprus | Norway | Georgia |
| Iceland | Croatia | Moldova | Poland |
| Azerbaijan | Greece | San Marino | Slovenia |
| Israel | FYR Macedonia | The Netherlands | Ukraine |
| Estonia | | | |
The pots for the 2018 draw
As always, the semi-final countries were drawn from a set of pots, which is made partly based on voting pattern in the past. For the 2018 draw, the pots looked like this:
| | | | | | |
| --- | --- | --- | --- | --- | --- |
| Pot 1 | Pot 2 | Pot 3 | Pot 4 | Pot 5 | Pot 6 |
| Albania | Denmark | Armenia | Bulgaria | Australia | Belgium |
| Croatia | Finland | Azerbaijan | Cyprus | Austria | Estonia |
| FYR Macedonia | Iceland | Belarus | Greece | Czech Republic | Latvia |
| Montengro | Ireland | Georgia | Hungary | Israel | Lithuania |
| Serbia | Norway | Russia | Moldova | Malta | The Netherlands |
| Slovenia | Sweden | Ukraine | Romania | San Marino | Poland |
| Switzerland | | | | | |