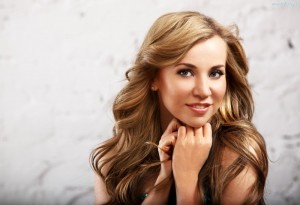 Lidia Kopania represented Poland at the 2009 Eurovision Song Contest with I Don't Wanna Leave. Now she is set to return with a brand new album of songs recorded in Polish and English languages. This will follow up her hit single of 2013, Hold My Breath And Wait.
Lidia Kopania first came in to the spotlight when she won the TOPtrendy competition on the tv channel, Polsat. She then went on to become a member of the group, Kind Of Blue, that consisted of Lidia and two German musicians, Bernd Klimpel and Frank Spinngiess. They released an album in 2006 called Beating The Morning Rush.
Lidia combined work with the band and also some solo singing. She released an album in 2008 called Przed świtem. In 2009 she was selected to represent Poland at the Eurovision Song Contest with the charming ballad, I Don't Wanna Leave. 
Now Lidia is working on her new album which will consist of Polish and English performed songs. She has been in Hamburg in Germany recording the tracks for the soon to be released album. She has been very busy working on the her songs and at the moment is taking a short break in Austria before finalising her recordings.
You can read more about Lidia at her official website (in Polish) and you can see Lidia's most recent video release, Hold My Breath And Wait, below.
You may also like to read –