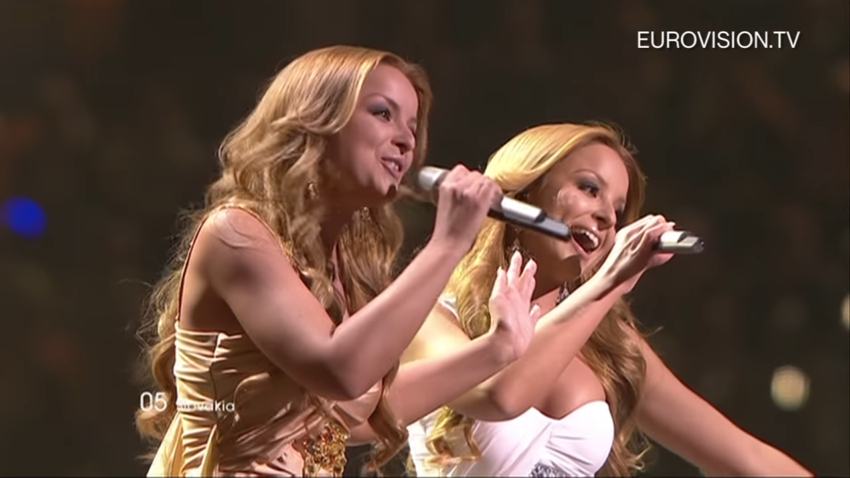 Slovakia is an underrated country, TWiiNS are beautiful, the song is dated or dull, it should have qualified… Those are only some of the opinions we faced when asking Eurovision fans about the 2011 Slovakian entry 'I'm Still Alive' by TWiiNS.

It was Slovakia's sixth entry at Eurovision, but the third one after its comeback in 2009. Originally, the Slovak broadcaster SVT planned to withdraw from Eurovision 2011, but on New Year's Eve announced that they will be present in Düsseldorf to avoid the financial fine for withdrawing after the deadline. 2011 also marked the first year when the Slovak entry was performed in English. And also the first completely internally selected entry since the country's comeback in 2009.
I'm Still Alive is a pop ballad written by an international team of Bryan Todd, Sandra Nordstrom and Brano Jancich and it is Slovakia's best scoring entry at Eurovision since their comeback in 2009. Sister duo TWiiNS participated in the second semi-final and performed fifth in the running order. The overall result was 13th place and 48 points. With top 10 qualifying, the sisters had to leave after the semi-final. The split result however reveals something interesting. If only the televote would have been used, Slovakia would drop to 16th place with 40 points, but on the other hand, if only the jury would decide, Slovakia would have qualified for the grand final from 9th place with 71 points.
I'm Still Alive – opinions from fans
In order to find out what Eurovision fans today think of this Slovak entry from 2011, we asked our Eurovision Fan Panel. It includes team members as well as fans from all over the world.
Josef Š. – TWiiNS were beautiful and their performance was good. The only problem was that I'm Still Alive was a pop ballad that was already an outdated cliche in 2011. But still, it was the best result of Slovakia's new history at Eurovision and could have qualified. For me, it's a better average.
Pascal W. – Slovakia is definitely one of the – if not THE – most underrated countries at Eurovision. From all the entries that Slovakia has sent, this is my 2nd place – right after their 2010 entry. The song may be a bit dated (which is why it might not have qualified), but the melody in the chorus gets stuck in my head every time I hear the song. I hope Slovakia will return to the contest in the future.
Amir B. – A cute entry. I love what TWiiNS do at stage and this is one of many injustices of the 2011's second semi-final. They look so cute and empowered! I love this entry! These girls are awesome and I'm Still Alive is my favourite Slovakia entry!
Frank S. – I completely forgot many of the songs of the 2011 Eurovision Song Contest and after seeing this song, I know why….Not to be too harsh, but what was this? Almost fully out of tune during a full song, well let's just say that you can at least call it being persistent..? They look beautiful on the bright side and they are probably very nice people? No, this doesn't do it for me now and for sure didn't back in the days. Sorry.
Martti I. – So something went wrong here? Yep! It was done as always, nothing new, nothing unique. Most boring three minutes ever. The country has lots to offer and hopefully, we can see that again someday.
Charlotte J. – I remember a straight male team member loving this back then. I never managed to quite figure out if it was actually the song or them he loved! Unfortunately, this song does nothing for me. It has elements here and there which I like, but overall, it's just a filler. No wonder this didn't qualify for the final.
Alvaro S. – Slovakia continued an old Eurovision tradition of bringing twin brothers/sisters to the competition. But apart from this silly joke I have to say that the song is sweet, I like the lyrics. I feel some similarities to Alicia Key's No One but I don't see it as a liability. They were so close to qualify!
Michael O. – This is my favourite entry of all time from Slovakia although I guess it does get quite monotone throughout. Nevertheless, I still like it today and would have been happy if it had qualified.
Enjoy TWiiNS' performance from the 2011 Eurovision Song Contest in the embedded video. Below the video, you can read more about them.
TWiiNS – a mini biography
TWiiNS were a duo of two sisters – Veronika and Daniela born in 1986. The duo started in 2000 and they were active until 2019. Daniela is busy being a mum and Veronika continues in a solo career under the stage name Vebi. In their career, TWiiNS had some successful singles and albums and were known also in Japan where they released some of their songs via online platforms.
In 2008, TWiiNS participated at Eurovision Song Contest as backing singers for Czech representative Tereza Kerndlová, in 2011 they represented Slovakia in Düsseldorf with a song I'm Still Alive, which was co-written by their manager and producer, husband of Daniela (from 2010 to 2013) Brano Jancich. TWiiNS also worked with other famous artists on their singles, like Flo Rida, Pitbull and Sean Paul, as well as some Slovak artists, e.g. Kali. The sisters also hosted TV show Hitbox, played in a Czech musical Rebelové in Prague and Bratislava and appeared among contestants in one season of TV reality show Farma.