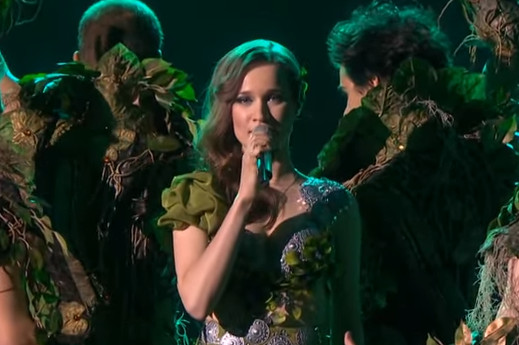 Slovakia returned to Eurovision in 2009. The following year, they sent Kristina with her song 'Horehronie', which still belong to one of the most favourite Slovak entries. Up to date, Slovakia is one of the few countries that never qualified for the final since the introduction of semifinals in early 00's.

For the second year in a row, Slovakia held a national final in 2010. This extended show, that consisted of six heats, two semifinals and a final, led into a tie for the first two places in the final. Kristina with Horehronie had 12 points from televote and 11 points from the jury, while Mista with Emotions had 11 points from televote and 12 from the jury. In the end, it was televote who got the last word, so Kristina won.
In the national final, as guest artists, Maltese past Eurovision participant Fabrizio Faniello and his sister and future Eurovision participant Claudia performed. It may be only a coincidence, but Malta received Slovakia's 12 points in the semifinal of Eurovision 2010. Kristina on the other hand received only 24 points in total, which was enough for a 16th place in the 17-piece first semifinal.
On the stage, Kristina was accompanied by a four-piece male dance group and Hana Servická, who did the backing vocals. The song was written by Martin Kavulič and Kamil Peteraj who are also behind most of Kristina's later songs. As the title suggests, Horehronie is a song that praises the nature of Horehronie region in Slovakia, which was used also for its promotion.
Horehronie – opinions from fans
In order to find out what Eurovision fans today think of this Slovak entry from 2010, we asked our Eurovision Fan Panel. It includes team members as well as fans from all over the world.
Ivana K. – Horehronie represents a great example of a wasted opportunity and how performance plays a major role in final success. The song itself was good and outstanding in it's own way, but Kristina herself brought nothing special to the Eurovision stage. Boring and flat performance copied and pasted from the national selection and a terribly nervous singer was not something most of the fans expected to see. Another disadvantage was the year itself. Early 2010's were not the years of traditional songs sang in country's national language, in my opinion. In conclusion, this song was quite nice, but the presentation buried the entire potential it had.
Richard C. – Horehronie is a mystical and ethereal anthem with a strong message. On stage, Kristina looked magical in her nymph-like attire. This sweet song had the potential to do quite well. Her sweet vocals on the night however did not live up to the expectations, breaking and sounding quite pitchy at times. The choreography seemed quite busy and messy also and I personally felt it hindered her chances of qualifying. It really is a shame as it was one of my favourite songs from that year.
Antonio P. – This is one of the greatest performances I have seen in my ESC life, still surprised That it didn't go to the final. Good dancers, great lyrics, and good vocal. Maybe she got too much nerves, and missed some words. I get a feeling that I'm walking in a fantasy world forest, like Willow or Lord of the Rings, or that I'm on a big adventure. Its also sad that people don't Understand folk music. If it should have gone to the final. My opinion is top 5.
Mirka M. – Kristína is a charming and talented person. She is a fresh breeze on the music scene and the energy she has is always transferred to everyone who listens to her. With the song Horehronie she won the hearts of many people in Slovakia but also in Europe. For me, her 16th place at the Eurovision Song Contest was a huge disappointment. I listen to her songs all the time and I hope that we will hear more new ones.
Charlotte J. – Her voice is gentle, soft and fragile yet extremely secure. I really like that. I like big parts of the background music too. Performance-wise it's pleasant to look at. All good, but yet, I can't seem to connect to it. I enjoy it, I really do. I am just afraid that if you ask me in half an hour, I would have forgotten about it again.
Josef Š. – I enjoyed the whole Slovak national selection and Kristina really stood out among the others. Horehronie is a happy song and full of energy so the dance is a perfect match for this song. And I don't mention those nature-themed green costumes and chant-like backing vocalist. One of my favourite Slovak entries ever.
Ashleigh K. – What a strange song. I honestly can't tell if I like it or not… Kristina showed a lot of charisma and I was interested to watch her and watch the performance unfold. The vocals were pretty good but not amazing. Do I like this or do I not? I don't know!! I'll certainly have to watch/listen to this again.
Alvaro S. – OMG I love this song. The best entry from Slovakia. I liked the ethnic outfits which immediately makes me think about nature, the forests and the mythology and religion from ancient Slavic (and European) tribes even better than Emmelie de Forest's winning song. There is no doubt why fans love this song. To this date, this is one of the biggest injustices in the contest.
Michael O. – Oh if ever there was an entry that I'm sick of this is it. All those people griping it never qualified, ten years on. It's an ok song that just wasn't good enough, now the next year Slovakia came up with a gem.
Enio P. – I must admit that I have a mixed opinion about this entry from Slovakia. The staging was ambitious (reminds me of Hobbits dancing in a forest) and Kristina has a clear and fresh voice tone. But the song wasn't impactful enough (repetitive melody without a climax) and it didn't quite connect with me.
Ray M. – Whenever I hear a Eurovision song sung in a native language, I'm hesitant to review it as I may miss something culturally significant. Sadly, I did not enjoy this song and performance of Horehronie by Kristina Pelakova. The song is very unoriginal musically and some of the lyrics seem squeezed in as if it were adapted from a poem. Also, the dancing tree men were more of a distraction to me and I get annoyed when elements like that don't really support the song.
William S. – Kristina brought possibly Slovakia's best ever chance at the contest with this ethnic pop banger. I remember the fan reaction to this when it won in Slovakia and how this could possibly win the whole contest. She looked beautiful in her nymph-like costume and the dark staging of most 2010 staging suited this perfectly. Only one thing was missing, good live vocals. This really was a missed opportunity for one of the more obscure Eurovision countries.
Wouter V. – Horehronie is both enchantingly beautiful and a little bit annoying. It's got me hooked onto it right from the intro, but after that I just keep waiting for a chorus that never really comes. Parts of the music and lyrics are repeated, so maybe that's it – but it's not nearly as distinct as you'd expect from a Eurovision song. Honestly, I just keep thinking: Don't bore us, get to the chorus. And that comes from somebody who usually zones out during a chorus, and judges songs mainly on the verses and the bridge in particular.
Enjoy Kristina's performance from the 2010 Eurovision Song Contest in this embedded video. Below the video, you can read more about Kristina.
Kristina – A mini biography
Kristina (full name Kristína Peláková) is a singer from eastern Slovakia. She started to be interested in singing, dancing and acting already in her childhood, which brought her to music high school in Košice. During her studies, she performed in local music club where she met Martin Kavulič, who later became her producer as well as a composer of most of her songs.
Kirstina released her first songs in 2007 and more followed. The first one with bigger success was Vrať mi tie hvezdy in 2008. Others include five no.1 hits in Slovak charts as well as many other TOP 10 places. Her songs were popular not only in Slovakia but also in neighboring Czech Republic and Slovakia.
In 2015, Kristina took part in a dance competition Tanec Snov (Dance of Dreams) where a celebrity is paired with professional dancers, similar to Strictly Come Dancing. She was paired with Karol Kotlár and finished as the runner-up. In the same year, she starred in Czech & Slovak film Život je život (Life is Life) and a Czech & Slovak Christmas fairytale Johančino tajemství (Johanka's secret). Kristina also sings a commercial ad theme for cosmetics company Dermacol, which was aired in the Czech Republic.