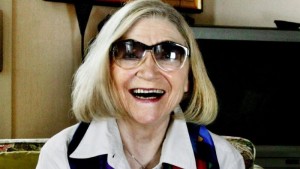 Norway's first ever Eurovision entrant Nora Brockstedt represented the country the first two times they participated, in 1960 and 1961. These were just two of the many milestones in her illustrious career. Norway's first lady of jazz turned 90 earlier this year, something which hasn't gone unnoticed in the entertainment industry.
Upon Norway's debut at Eurovision back in 1960, singer Nora Brockstedt managed to obtain a highly respectable fourth place with the jaunty little tale of longing that has gone on to become something of an evergreen, Voi-Voi. Such was her success, that she returned the following year, finishing seventh with the chanson Sommer i Palma. But prior to her participation at Eurovision, Brockstedt had enjoyed a career that began as far back as in the mid forties. Following her success in 1961, she continued to consolidate her career as one of the leading names in the entertainment industry, with a string of hits to her name.
Although her biggest hits were conventional pop songs of the time, she also dabbled in jazz, with greater focus on the jazz genre in later years. Brockstedt has for many come to be known as Norway's first lady of jazz, and so a rather befitting tribute took place on Sunday to mark the artist's 90th year. A sell out concert entitled NORA took place, which not only marked the veteran's ninetieth birthday but also the opening of Oslo Jazz Festival. Brockstedt was given pride of place among the audience as members of the group Come Shine, together with numerous guests treated concertgoers to many of her hits.
Eurovision winner and one half of Bobbysocks Hanne Krogh will also be paying tribute to the grande dame next week, as she presents a ceremony from Rockheim, Norway's premier music museum. Here, Brockstedt will be entered into the Hall of Fame together with two other much loved artists, Anne Grete Preus and Lillebjørn Nilsen. Other major Eurovision names that have been awarded places in the hall of fame are Wenche Myhre and Jahn Teigen. The ceremony will take place on the 20th of August and will be later broadcast on the TV2 television channel on the 31st of August.
You might also like to read: