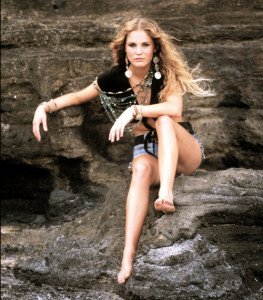 When the Netherlands tonight kicks off for its third season of the popular talent show The Voice Of Holland it will be with a former Eurovision Song Contest participant hoping for a new fresh start of her career. Niña van Dijk, one third of Treble, represented her country in 2006. 
In 2006 three girls represented the Netherlands at the Eurovision Song Contest under the name Treble. The song, sung mostly in a made-up language, Amambanda however failed to qualify for the final. The girl trio, consisting of the two sisters Niña (born 1985) and Djem van Dijk (1987) and Caroline Hoffmann born in 1975, didn't experience much success in their home country afterwards and in 2010 they officially decided to split up. 
Niña van Dijk went on to studying at the Amsterdam Conservatorium and tonight she will be taking the next step towards a solo career when she participates in The Voice Of Holland.
The four judges she will be trying to impress are for this third season pop singer Marco Borsato, jazz singer Trijntje Oosterhuis, sing-and songwriter duo Nick & Simon and singer Roel van Velzen, who has been a judge on the programme since the beginning.
The Voice has as a format been sold to many countries and this isn't the first time a former Eurovision Song Contest participant or national finalists tries to use it as a way to re-start their career.
In Turkey, 2001 participant Sedat Yüce failed to impress the judges, which included Hadise, who represented the country in 2009.
In Denmark's first edition of the The Voice a total of four national finalists participated, with one of them, Bjarne Langhoff reaching the final.
This won't be the first time it is seen in the Netherlands either as Charly Luske, who participated in the national selection in 2004, made it through to week 6 in the second season of The Voice Of Holland from earlier this year.