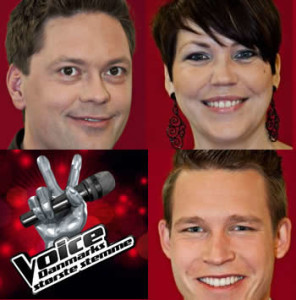 Saturday evening 12 participants were fighting to continue to next round in Voice – Danmark's Største Stemme. Among them were three former national finalists. As the show ended Ida Lohmann and Joachim Tranberg was voted out, whereas Bjarne Langhoff still is among the 8 left with the chance to win the talent show.
Voice – Danmark's Største Stemme is the Danish edition of the Dutch based format Voice of Holland. It is currently running its first edition in Denmark and four former national finalists have been among the talents who tried to get their career back on track via this show. 
2008 Dansk Melodi Grand Prix participant Claus Hassing was the first of the four to be voted out as he didn't pass from the audition. In the Danish final he and his wife came 6th with the song Come On Over. Three Danish finalists that did however make it all the way through the auditions over the battle rounds to the live shows were Ida Lohmann, Bjarne Langhoff and Joakim Tranberg. Ida came 4th in the 2000 edition of Dansk Melodi Grand Prix singing Mayday Mayday under the name Aida, while Bjarne ended outside the top5 two years later with the song Det' På Tide (It's about time). Joakim Tranberg participated in 2010 with the song All About A Girl, co-written by Ronan Keating, who also wrote the 2009 Danish Eurovision Song Contest entry Believe Again.
In Voice – Danmark's Største Stemme they have both recicved good feedback by their mentors. Ida worked together with Aqua's Lene Nystrøm, Joakim with Liam O'Connor also known as L.O.C, while Bjarne is coached by Sharin Foo from the band The Raveonettes. All three made it through the battle rounds against their team mates and the first live shows where 5 participants from each coach was cut down to three, but last night, where yet another cut took place in order for each team to only have two talents left, Ida Lohmann had to leave the show after singing Heavy Cross from the group Gossip. Joakim sang Save The World by Swedish House Mafia. Bjarne however made it though to the next phase, the semi-final as he sang Ordinary Things by Lukas Graham.