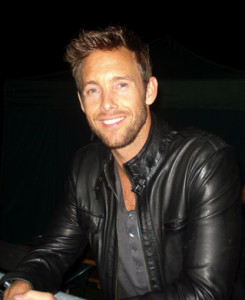 In the Netherlands they are approaching the final of the country's second edition of The Voice Of Holland. 2004 national finalist, Charly Luske, is tipped as top favourite to win it all. The final will be held on the 20th of January.
The second season of The Voice Of Holland started in September where we saw Charly Luske going to audition singing It's A Mans World. He impressed so much that all four judges turned around indicating that they wanted to work together with him. Thereby it was up to Charly to choose his own coach out of Roel van Velzen, Nick & Simon, Angela Groothuizen and Marco Borsato. He picked Nick & Simon.
Charly participated in the Dutch national final, the Nationaal Songfestival, in 2004 with the song She'll Take Your Breath Away. Back then he came fourth, but now he is mentioned to be the top candidate to win The Voice Of Holland. During this show he has been singing songs as For The First Time, Have A Little Faith In Me, Run To You and Signed, Sealed And Delivered – and never been in danger of being voted out. During the duration of the programme two of these songs ended up on the Dutch single top 100; Have A Little Faith In Me as #19 on the second of December 2011 and Run To You as #57 on the 16th of December.
It is not just in the Netherlands the Voice programmes sees former national finalists as participants. In Denmark Ida Lohmann, Dansk Melodi Grand Prix 2000 and Claus Hassing, Dansk Melodi Grand Prix 2008, both went to audition, but only Ida made it through. She has just beaten her opponent in the battle round and is now qualified to the live shows. In Turkey even a former Eurovision Song Contest participant, Sedat Yüce, decided to take part.
Below you can see Charly's performance of She'll Take Your Breath Away from the Dutch final in 2004.