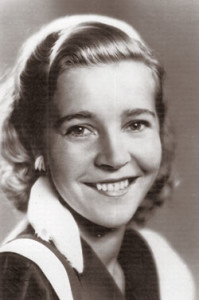 Switzerland has Lys Assia but Swedes have Alice Babs as their grand dame of Eurovision, who started the whole Swedish adventure off by coming fourth with Lilla Stjärna in 1958. She turned 90 on Sunday, an event which was celebrated by many but also gave time for reflection on the tragic personal situation surrounding Alice today.
Alice Babs was brought into the world as Hildur Alice Nilson on the 26th of January, 1924 in Kalmar, South Eastern Sweden. She was raised by father Jean Edvin Nilson and mother Hildur Nilson in the town of Västervik, South Eastern Sweden. Their family home was filled with music during her childhood, as Alice's mother Hildur was a singer. Her parents made a huge sacrifice in order to give Alice's singing career the best possible start by moving to Stockholm when Alice was young. Aged fifteen, she was bitten by the jazz bug, when attending a concert by Duke Ellington's Orchestra when they visited Sweden.
It didn't take long for Alice Babs to take to flight; her first film appearnce came in 1938 when starring in Blixt och dunder (Thunder and lightning)  and making her first recording as a vocalist in 1939 with the song Joddlarflickan, written by her father. By the end of the year, she had made several recordings. But it was during the fabulous forties that her career really began to take off. She landed one of the main roles in the film Swing it, magistern! in 1940 and as a result quickly became one of the faces to represent Swedish jazz music. This was to mark the start of an extensive film career, totalling approximately twenty films.
Her status as a jazz darling was further compounded with the formation of the jazz trio The Swe-Danes together with Dane Svend Asmussen and fellow Swede Ulrik Neumann in 1958, which led to the three touring the USA. That same year, Alice would experience another career first, and also a first for Sweden, as she was their very first act to particpate at the Eurovision Song Contest in 1958. She didn't dissappoint, finishing in a very creditable fourth place with the song Lilla Stjärna (Little Star). A minor scandal surrounds her participation, as the composer of the song, Åke Gerhard, wouldn't approve the song as it was sung by Alice at the contest, whcih prevented a recording of the song until some 36 years later.
Her success continued into the swinging sixties, with a collaboration between Alice and none other than Duke Ellington himself which manifested itself in a specially written composition for her entitled Sacred Concerts. this led to a long standing professional partnership between the two, which garnered her rave reviews stateside. Her status as one of Sweden's foremost ladies of jazz continued until well into the seventies with collaborations together with the likes of Povel Ramel and Charlie Norman. She was awarded the title "hovsångare" (literally court singer) by the Swedish monarch in 1972 and in 1974 she was appointed as member of the Royal Swedish Academy of Music.
Despite her enormous commercial success, tragedy clouds Alice's existence today. In 2012, her family revealed to Swedish media that she had suffered a stroke that year. Not long after had been diagnosed with Alzheimers and then dementia, resulting in her being admitted to an institution where she has spent the last few years living under limited legal guardianship. This was the subject of a controversial documentary aired on Swedish television last year entitled Alice Babs förlorade rättigheter (The lost rights of Alice Babs). A sad end for someone who has had such an illustrious career and who has come to mean so much to so many. We send Alice Babs our warmest congratulations for her 90th birthday, and the fact that she was the first Swedish entrant at Eurovision is something that nobody can take from her.
You might also like to read: