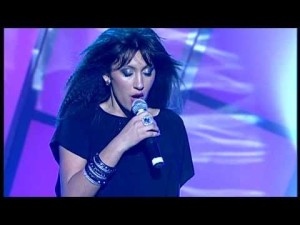 Semi Jaupaj has returned with her group, Grifshat, and is taking part in the 2012 Kënga Magjike competition in Albania.  The song is called E Kthjellet.
Semi Jaupaj previously took part in the 2010 and 2011 Festivali i Këngës contests to try and represent her country at the Eurovision Song Contest.  In 2010 she performed Dritë with Albi Xhepa and in 2011 she took to the stage with Bojken Lako & Breza and sang Të zakonshëm.
Bojken Lako is the author of E Kthjellet.  The song is an upbeat and electronic/rock type song.
Kënga Magjike is a very popular song contest in Albania.  Although the performances are mainly playback the contest produces many diverse and popular hits in the Balkan country.
Semi is hoping she will get the chance to take part in the next Festivali i Këngës contest and have the chance to represent her country in Sweden at the 2013 Eurovision Song Contest.
You can see Grifshat perform E Kthjellet below.