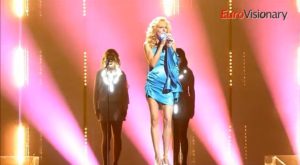 They are on the way to Baku and Hungarian broadcaster MTV published online the full versions of the participating songs in A Dal, via its website. The first semifinal will take place 28 January, and last year's representative name Kati Wolf will be back as a jury member this year.
As we mentioned in our previous Hungarian article, the national broadcaster in Hungary, MTV, revealed the participating names and their song titles that are taking part in the competition. Therefore the broadcaster also announced the process in the national selections named A Dal (The Song). This year we will be able to hear twenty songs divided in to two semifinal (ten songs for each show) and later a final show will be held with eight qualified acts in total.
As the songs are revealed with their titles, the broadcaster MTV published the full versions of the songs. The songs can be heard by clicking on the name below (in alphabetical order):
All shows will be broadcast live by the first channel of MTV, M1 and Duna World via online and satellite. In the final show, Jenő Csiszár (radio and
television host), Philip Rákay (M1 program director), Viktor Rakonczai (composer of 2011 Hungarian entry What about my dreams? and who represented the country at the 1997 Eurovision Song Contest as a member of V.I.P.) and Kati Wolf
(Hungarian representative at the 2011 Eurovision Song Contest) will be appear as a jury members. The
results will be known after 50/50 split decision of jury and televoters. 
Last year Kati Wolf represented Hungary with the song What about my dreams? ending up 22nd position with 55 points.