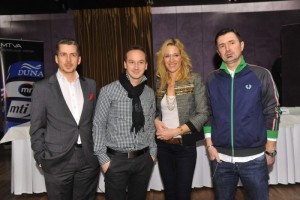 There are twenty songs but only eight of them will make it to the super final scheduled for the 11th of February. The national selection procedure called 'A Dal', which means 'The Song' will have two semi-finals which will take place on the 28th of January and February 4th.
The Hungarian broadcaster, MTV, has revealed today the names of the artists and the songs titles that are taking part in the competition. We will listen to 10 songs in each semi-final, but only four of them will proceed to the final using a combination of jury voting and televoting (three finalists will be chosen by an expert jury and another one by the audience).
In the super final show, which will therefore feature eight acts, 50% of the decision will be in the hands of the audience and the other 50% will be made by the expert jury consisting of Jenő Csiszár (radio and television host), Philip Rákay (M1 program director), Viktor Rakonczai (composer of 2011 Hungarian entry What about my dreams? and who represented the country at the 1997 Eurovision Song Contest as a member of V.I.P.) and Kati Wolf (Hungarian representative at the 2011 Eurovision Song Contest). The audience will pick their four favorite songs and finally, the winner will be determined among them jointly by the expert jury and the viewers.
Here we have the twenty names and the song titles chosen by a pre-jury out of all entries that have been submitted from the 1st of December when MTV started the call for songs for their national selection:
•    Anti Fitness Club – Lesz, Ami Lesz
•    Bebe and the Change – Fans Will Be Friends
•    Caramel – Vízió
•    Compact Disco – Sound Of Our Hearts
•    Dancs Annamari – Feel
•    Fábián Juli & Zoohacker – Like A Child
•    Gallusz Niki & Vizy Márton – Európa, Egy A Szívünk
•    Gyurcsik Tibor – Back In Place
•    Heinz Gabi – Learning To Let Go
•    Kállay-Saunders András – I Love You
•    Király Linda & Ben & Viktor – Untried
•    Kiss Gina – Chasing Dreams
•    Kökény Attila & Bencsik Tamara – Állítsd Meg Az Időt
•    Monsoon – Dance
•    Pély Barna, Pál Eszter & Pál István ("Szalonna") – Open Your Heart
•    Puskás Péter – Csillagok
•    Sophistic – Yeah OK!
•    Tolvai Renáta – Élek A Szemeidben
•    Tóth Gabi – Nem Kell Végszó
•    Veres Mónika "Nika" – This Love
All shows will be aired live on MTV's main channel M1 and on Duna World, starting at 20:00 CET.