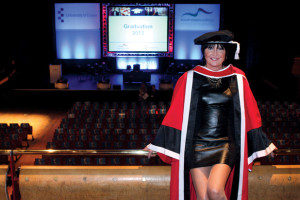 1967 British Eurovision Song Contest winner Sandie Shaw has received a doctorate degree from South Essex College. Shaw was recently awarded this degree for her services in music and entertainment, after having announced her retirement from the music scene.
The 1960s star, Sandie Shaw, was thrilled with the acknowledgement she received from South Essex College when they awarded her with the doctorate degree. Sandie stated that she was in complete awe as she got to know that she will receive it: "There is nothing quite like the acknowledgement of your peers, back
home, I always wondered what my Essex family thought of me", said the barefoot pop princess.
Sandie Shaw won the 1967 Eurovision Song Contest in Vienna with the widest margins of victory ever witnessed in the competition up til then. Earlier this year, the singer announced her retirement from music. 
Below you can watch her Eurovision winning entry, Puppet On A String. 
You might also want to read: