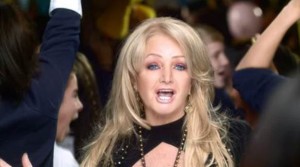 Believe in Me sang Welsh wonder Bonnie Tyler in Malmö this year. Some 6 months later she is showing her sense of humour and proving herself to be a real 'hero' by poking fun at her classic song Holding Out for a Hero all for the BBC Children in Need appeal 2013. 
Following on from her gallant efforts for the United Kingdom at the Eurovision in Malmö last May Bonnie Tyler is once again involved in a high profile BBC related job. This time it doesn't require a flight to Sweden; instead she can currently be seen and heard as the voice and face of the corporations 2013 Children in Need charity appeal with the clever strapline 'Be a Hero'.
Airing across the BBC is a rerecorded version of her sensational and iconic track Holding out for a Hero featuring reworked lyrics which inspire and illustrate all the ways in which people across the land can do their bit for the annual telethon. The best example of the rewrite has to be: "Molly's a hero. She's baking mountains of cupcakes for the whole of South Leith, they're going to be sweet, and they're going to be hard and they're going to break quite a few teeth, quite a few teeth".
This is not the first time that Bonnie has supported Children in Need but it is a real coup for her to feature on such a high profile appeal in the same year as representing the nation at Eurovision. Speaking of her decision to assist in this years fundraising campaign Bonnie said: "Every year BBC Children in Need gets bigger and bigger, it's amazing. It's fantastic to be involved as you know that it's going to make a difference".
BBC Children in Need 2013 hosted by Sir Terry Wogan will be broadcast live on BBC One Friday 15th November.
You may also like to read: