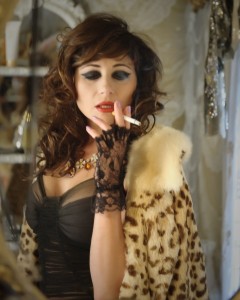 Award winning and former Eurovision singer, Francis Ruffelle, is about to star in a show celebrating some of the classic French female singers like Edith Piaf and Francoise Hardy.
Fresh from a successful run in New York of another of her shows, Beneath the Dress, Francis Ruffelle will return to London to star in a show celebrating singers such as Edith Piaf and Francoise Hardy. The show can be seen at the Crazy Coqs, a cabaret venue located in the Brasserie Zedel and runs from 8th October to 12th October. The show has been so popular that all five shows are currently sold out.
In a career that has so far spanned over 30 years, Francis is most famous for her portrayal in the musical, Les Misérables as Éponine, when she was a member of the original West End cast. It was a role which won her many awards, including a Tony when she reprised the role when the show opened on Broadway.
She was asked by the BBC to represent the United Kingdom in the 1994 Eurovision Song Contest. She finished tenth in Dublin with We Will be Free (Lonely Symphony). That song you can see in the video below.
Links