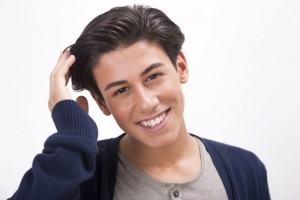 San Marino is set to make its debut at the 2013 Junior Eurovision Song Contest and the honour of being its first ever representative goes to Michele Perniola. The song that he will sing in Kyiv is called O-o-O Sole Intorno A Me, which means Sunlight All Around Me, and it will be sung in Italian.
The broadcaster of San Marino has recently announced that they will join Junior Eurovision for the first time. With them taking part of the competition, it brings the number of participating countries at the 2013 edition of the Junior Eurovision Song Contest to twelve.
Michele Perniola, who was born fifteen years ago in Palagiano, a town in Southern Italy, has been internally selected by SMTV as the San Marinese entrant for the upcoming Junior Eurovision Song Contest. According to the rules of Junior Eurovision, the artist chosen must own
the nationality of the participating country or have been living there
for over two and a half years. Due to San Marino's small population, it
was granted a special dispensation that allows them to pick an artist of
either San Marinese or Italian nationality.
Michele has been taking singing lessons and he has attended school of classic dance from the age of nine, but he rose to fame in Italy last year when he won the sixth season of the talent show Ti Lascio Una Canzone, broadcast on RAI 1, where he was described as the Italian reincarnation of Michael Jackson after having performed a number of his songs during his participation in the programme. Indeed, we could say that his Junior Eurovision entry, O-o-O Sole Intorno A Me, has certain influences reminiscent of the King of Pop.
The song was written by Michele himself alongside Piero Romitelli, Massimiliano Messieri and Antonello Carozza (who took part in the Russian national selection for the Eurovision Song Contest in 2010).
You can watch the official video of O-o-O Sole Intorno A Me below.
You might also like to read: