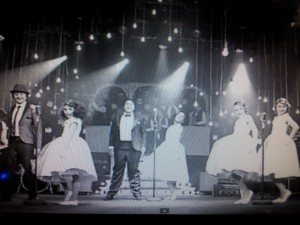 The Smile Shop were recently selected internally to represent Georgia at the 2013 Junior Eurovision Song Contest in Ukraine on 30 November 2013.  The Georgian broadcaster, GPB, has released the official preview video for the song, Give Me Your Smile.
Six children were selected through internal auditions by GPB tv in Georgia to perform at the 2013 Junior Eurovision. They are Luka, Tamta, Saba, Anna, Mari, and Miriam. Here we have The Smile Shop.
The song is called Give Me Your Smile and is a happy and retro style song with a 70s feel.  The official video captures the group on stage performing what appears to look like a cabaret night club atmosphere. There is a band playing and there is a general happy vibe throughout the video and the song.
Give Me Your Smile is produced and composed by Giga Kukhianidze with some help from The Smile Shop themselves. Giga has been involved in previous Georgian Junior Eurovision entries such as the songs by Mariam Kakhelishvili (2010), The Funkids (2012), Bzikebi (winners in 2008) and Group Candy (the winners in 2011).
You can see the video for Give Me Your Smile below.

You may also like to read: