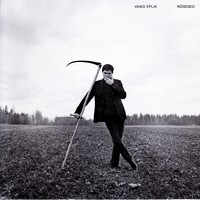 As frontman of 2003 Estonian entrant Ruffus, Vaiko Eplik brought both attitude and funk to neighbouring Riga. After the contest, the group disbanded and Vaiko went on to a succesful solo career. Now he's back with his highly anticipated brand new album Nõgesed.
Claire's Birthday or Ruffus as they came to be known at Eurovision insisted on bringing the eighties back in their spirited, feisty entry, straying from the formula that had brought Estonia a string of successful placings from 1996-2002 at the Eurovision Song Contest. Back home they were the darlings of the music scene and entered Eighties Coming Back as a something of a joke. But the joke backfired and Estonia was awarded a meagre 14 points, ending 21st in the contest.
Ruffus disbanded that same year, but Vaiko Eplik went on to create a highly succesful solo career, remaining an extremely influential force on the Estonian music scene. He began an ongoing musical project under the name Eliit which resulted in three album releases in 2006, 2007 and 2008. In 2008 his efforts were acknowledged by the British Council, nominating Eplik for the International Young Music Entrepreneur of the Year award. All of his releases have become hugely successful at home in Estonia, his latest album being no exception.
His latest album Nõgesed (Nettles) is his newest offering since the studio album Varielu in 2012. Two singles were released from Nõgesed  in the latter half of last year, Murelik brünett and Mõtetes mõrudais. A third single Kosmiline armastus came out in January, and has picked up a lot of airplay on Estonian radio. The full track listing is as follows: 
1.   Sisemine olukord
2.   Mõtetes mõrudais
3.   Kosmiline armastus
4.   Virgumine
5.   Kiivuse tiivul
6.   Rahu võtmed
7.   Murelik brünett
8.   Nõgesed
9.   Hurraa!
10. Lauludest ja muust…
Besides writing and composing his own music, Eplik has written for a number of others including the familiar face of Lenna Kuurma. She was a member of the Estonian rock band Vanilla Ninja that represented Switzerland in 2005 with Cool Vibes who has since gone on to her own solo career. Eplik co-arranged her Eesti Laul 2010 entry Rapunzel, finishing second.
Nõgesed has been released on the Mortimer Snerd record label.
You might also like to read: