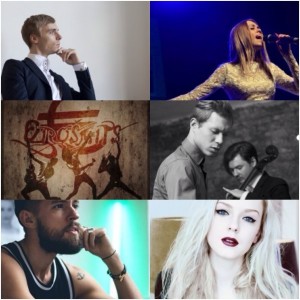 Following last nights first semi final in which six acts were selected, tonight the remaining six places in the Latvian final were decided upon. The final 12 artists will now go forward and compete in the Dziesma 2014 Final live from Ventspils on Saturday 22nd February to be chosen as the Latvian entry for Copenhagen.
The acts who qualified Saturday night were Aminata Savadogo, Samanta Tina, Olga & Līgo, Aarzemnieki, MyRadiantU and Niko.
Full round up of semi final one available 
here
. 
Tonight was semi final two from Riga and twelve more songs were performed. The successful acts qualify via a 50/50 combined jury and public vote. This year online votes were used alongside text and phone votes for the very first time to decide the outcome.
The Songs
1. Revelation – Ralfs Eilands, Valters Pūce
The performance starts with a full close up on Ralfs who is wearing a green coat over his shoulders as he performs directly into the camera. The song has a strong beat initially, a plucked sound. It changes to a stronger rock beat when Valters plays a cello. A drum kit on stage is played by Nelli Bubujanca who has a coloured power on the symbols and each time she hits them the power spreads in the air. This song has a repetive choras and "Our Revelation has come" is sung on loop. Their sound reminds me of the British band Muse, but lighter on the rock. A megaphone is deployed to further highlight the revelation and the vocal builds to a very harsh screech. At the end the beat is up at a very high crescendo, exceptionally fast and then the revelaton message has been given and the song cuts quite abruptly.
2. You Are The Reason – Katrine Lukins
An instantly notible thing about this staging is the two drum kits being played during the number. Katrine has a very American sound and I am reminded of Taylor Swift or similar. Really easy listening soft rock track. The vocals are very good and Katrine is wearing black tailored trousers with soft sheen red top with black shoulder with a light fringe detail. She gives a very convincing performance ably assised by her backing singers. There is an echo effect on the last note. All in all a very competant effort all round.
3. I Need A Soul-Twin – Mad Show Boys
Wearing a Miami Vice type blazer with bright pink shirt our lead vocalist starts as he means to go on, naming a lot of couples or partners, globally known. Behind on stage for greater illustration cardboard cut-outs are used to highlight exactly what the song is saying. We see Marie N, Bevis and Butthead, Renars Kaupers, Homer Simpson and Prince to name as many as I can now remember. The final cut out brought to the front is Freddie Murcury, we are told that the lead singer just wants a queen. And behind a young beauty is hoisted up wearing a pagent style dress and a big smile. Altogether I don't think we will be seeing this song again.
4. Lights On – Markus Riva
Markus wearing a black shiney trousers and blazer combo with a white shirt opened down a few buttons on the chest. Lights on is a repeative track. Behind Markus are four backing vocalists who have light up microphone stands in front of them and on their heads are a hat with a light up under brim. I think Markus gives a good performance but think this song a little too samey for my tastes.
5. Breathe Slow – Anete Volmane
Anete appears centre stage with four backing dancers supporting. They are wearing black short lace dresses with full sleeves and across their eyes are lace blindfolds as they perform their moves. Anete is in a black dress with lace details on her shoulder top a with an added long white curtain like cape tied from the waist which the wind machine works to give it movement. I was wondering if this cape would perhaps be removed but it wasn't to happen. The song is rather good, reminds me of a revamped version of british popstar Alesha Dixon's song of the same name. I am not sure if this will be in the final shake up.
6. What If It Was – Rolands Ūdris
Backing vocalists wearing twig and grass like headpieces and traditional style costume chant the vocal message as on the main stage Rolands performs. What if it was has a message that passes me by I'm afraid. A distracting element is the shirtless long haired man who comes onto the main stage from the side and performs a dance of sorts by skillfully moving a wooden large handle type pole in a commanding way. It's a distraction that isn't enhancing to the song at all.
7. Moment And Tomorrow – Katrīna Bindere
I really like this song and Katrina seems very engaging. It's a modern contempory balled and she performs it well assisted by her three female backing vocal team. Katrina wears a modern vivienne westwood style gown to the knee with exposed underskirt at the front. I loved the pop beats and it's well sung and builds nicely. My winner of the night so far.
8. Pa Vidu Tu – Andris Kivičs
Andris wearing a grey military jacket, trouser with gold shoes outfit is joined on stage by a female companion with red dress and beehive hair who is painting throughout the performance. The song starts slow and takes a big dance change but is a very 1990's mix. While the painter is distracting I am not quite convinced how comfortable the lead singer Andris is and he isn't commanding the stage as much as he could. The song itself is rather bland.
9. Pēdējā Vēstule – Dons
Four seems to be the magic number for backing singers tonight, Dons again has four females supporting him as he performs this ballad. He wears a smart dark dress suit and white shirt with 3 buttons on the collar. The vocals are strong, he really does a good job. To me he reminded me a little of Marco Mengoni. The track however has a very abrupt ending, a longer note would have helped this one.
10. Is It Possible – Sabīne Vidriķe
A heavily mixed higher energy number at this point in the show. Sabine wears a black dress to the knee with a kick to it. On the black skirt are some butterflys, so 2013. Topping off her outfit are metal shoulder plates and a collar. It's rather unusual and does stand out. While she performs is it possible, helped by her three female backing vocalists a confused man wanders the stage. He holds a book with a question mark on it and it seems he is pondering and looking. Once a saxaphone solo kicks in the wandering stranger now understands and starts to get his groove on. Sabine sings "world needs our help" on repeat to end the song. In the end she got her man, the confused fellow is confused no more.
11. Pressure – Sabīne Berezina
Sabine number two is caped and her song has very obvious Eurovision song characteristics to it. Partways into the song two white floaty dressed girls join Sabine on main stage and waft about for dramatic effect, the song itself is quite strong and doesn't need this. They then help and remove the cape and reveal that our lead singer is wearing a shiny light blue fitted full length dress that has been hidden throughtout. The song seems dark, a bit like it is fraught and hoping for a better time. 
12. If I Could (Get Away) – Eirošmits
Four piece male lineup on the main stage, one with a small back chin beard and stetson leads the song. He is accompanied on vocals by three other guys, all wearing large wigs and beards so large they cover their entire faces. I do not really understand why. The song isn't terrible, it's actually quite catchy. Not sure it needed the staging it has been given. There are many electric guitars passed about by the line up but their miming doesn't quite go to time and the guitar is playing on the track and they aren't being played. Quite a quirky mess. The novelty of the night, beards.
The Show
Hosted by Erik Loks and Nauris Brikmanis from the Palladium Concert Hall in Riga in front of a young audience, so young I even saw a young child in arms in the first ten minutes of the show. The hosts work well as a double act to introduce and keep the momentum going. The opening act was the group Latvian Voices, winners of the World Choir Games 2012 and they were dressed in a Swedish colouring of blue and yellow. The twelve acts were then introduced and came on stage ahead of the first performance. After all the songs are performed and the phone lines opened our hosts had a brief chat to many of the acts from the show and then a countdown happens. The vote is closed and the decision has been made. While we await the result we hear from Latvian bands Headline, rock act Credo, female vocalist Aija Andrejeva and a performance by Switzerlands entry at Baku 2012 Unbreakable by Sinplus who also performed in last nights show.
The Voting
All acts were re-introduced and took a bow on the stage as Erik and Nauris stand alongside two timber horsehead shaped cut outs on poles with six mittens pinned onto them. Each mitten contains the name of an act. Like last evening only six of the twelve acts would go through to the final. 
Those who secured the places are: Dons, Katrīna Bindere, Eirošmits, Revelation, Markus Riva and Katrine Lukins. 
Tonights qualifiers join those decided on Saturday night, namely: Aminata Savadogo, Samanta Tina, Olga & Līgo, Aarzemnieki, MyRadiantU and Niko.
Dziesma 2014 Final will be live on 22nd February. Stay with Eurovisionary for all the latest.
Latvia at the Eurovision Song Contest
Having made a very successful debut at the Stockholm 2000 contest with Brainstorm they went on to win the 2002 contest in Tallinn with Marie N and the song I Wanna. In recent years they have however failed to advance to the final. The last Final they completed in was 2008 in Belgrade with the act Pirates of the Sea.