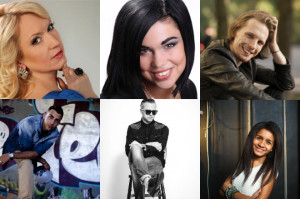 This evening Latvia began its quest to select the entry that will represent them at the 2014 Eurovision Song Contest and twelve acts were competing for one of the six spots in the final. The slogan of the selection was 'Made In Latvia' and only Latvian authors were allowed to enter the competition.
The Latvian entry for Copenhagen will be selected through Dziesma 2014 which will consist of two semi-finals and a final. This evening took place the first semi-final and the show consisted of twelve songs and only six of them would proceed to the final which is scheduled to take place on the 22nd of February.
The songs:
1. DJ Dween & Sabīne Berezina – Dejo Tā (Music: Kaspars Dvinskis. Lyrics: Sabīne Berezina, Kaspars Dvinskis)
What a start! This is a hip hop song whose instrumentation includes lots of synths and keyboard tones but after one minute listening it turns into a repetitive loop that sometimes reminds to the sound from old cartoons. Despite it has a lot of sound effects, the beat is loud enough to be heard without overpowering the main melody. Their vocals had a futuristic effect very auto-tuned. Sabīne was wearing a fur vest and black leather trousers. On stage there were two dancers and two backing singers, all of them women, also dressed in leather pants and leather jackets of different colours. DJ Dween appeared halfway through the performance. He wore sunglasses and was dressed in a black shirt and silver tie and colourful trousers. At the end of the song, Sabīne also put her sunglasses and all of them joined the choreography.
2. Crazy Dolls – Bučas (Music: Aldis Zaļūksnis. Lyrics: Mārtiņš Poļakovskis)
Their voices are the perfect combination of strength, vulnerability and clarity sauntering across the country-folk arrangements of the melody. They delivered a strong, engaging, and hugely entertaining live performance with a wry sense of humour. There were six people on stage. The lead singer was on center stage playing a small guitar and wearing a blue suit. To his right was a contrabass player and behind him two female backing singers wearing shiny dresses and a flute player who also served as backing singer. But what caught the attention of the whole performance was the guitar player dressed as a big white teddy bear who was walking around the stage.
3. Tamāra Rutkovska – I'm Happy (Music and lyrics: Tamāra Rutkovska)
She had a great attitude and she could be sultry and sweet at the same time. Her voice was supremely fine-tuned, controlled and yet effortless but the song is a little weak and its production is very basic. Not a right choice for Eurovision. She wore a shirt with golden sequins and black trousers and she was accompanied by two couples of dancers dressed in black and a female backing singer. Tamāra maintained her position in the center of the stage while the dancers were behind and around her. The stage lighting was pretty dark with the screens lit in pink during the verses and yellow during the chorus.
4. Niko – Here I Am Again (Music and lyrics: Vladimirs Koževņikovs)
This song is forgettable and predictable and it has been done much better already but Niko delivered a strong performance from this likeable song whose lyrics are easy to remember. It was a good dance number and he has got a lovely voice although it was a bit out of tune in some parts of the song. Niko was dressed all in white and also on stage were four dancers dressed in black with white helmets. The stage lighting was dark with the screens lit in bright green. It is just a great package so Niko is more than likely to receive support no matter what happens.
5. Ivo Grīsniņš Grīslis – I've Got (Music and lyrics: Ivo Grīsniņš Grīslis)
He put a fresh attitude on this upbeat pop-rock song. It swings back and forth from raucous guitar riffs to a nice slow chorus and Ivo's voice was in top form. It is not a bad song but nothing original. It does not have hit single potential. He was dressed in dark grey with a black casette tape hanging from his neck and he was accompanied by five contemporary dancers, three women and two men. They were dressed in black and the men were bare-chested. The choreography was exactly what you can not expect from a song like this and the dancers were the real stars of the performance.
6. Aarzemnieki – Cake To Bake (Music and Lyrics: Guntis Veilands)
This is a lovely song which features pure and perfect vocals with minimal accompaniment to begin with but it builds to a wonderful crescendo. While the verses are led by acoustic guitar the choruses are energetic and powerful but best of all are the lyrics that make you smile and sing along. The lead singer has a soft cute voice that really fits the style of the song. The band members (two men and two women) were in a semicircle around the lead singer all dressed in casual clothes. Some of them played instruments like the guitar and violin and others were there just as backing singers. They really gave the impression of being a group of friends having fun on stage. The screens were lit in yellow.
7. Oskars Deigelis – Just Stop (Music: Ruslans Kuksinovičs, Oskars Deigelis. Lyrics: Oskars Deigelis)
This is a decent entry with a modern electronic sound but it turns quite repetitive. It might be the perfect party tune but it often sounds like him trying to stick too many elements into one song which is a bit of a mess. He began his performance sitting in an armchair on the right side of the stage and in front of him a group of five women, four backing singers and a dancer, all of them also sitting in an armchair. Oskars and the dancer performed a very energetic choreography interacting a lot with each other that really suited the rhythm of the song. He was wearing a gray jacket and black trousers.
8. Samanta Tina – Stay (Music and lyrics: Ingars Viļums)
Samanta, last year's runner up, is back to Dziesma for the third time in a row with a dance song that has nothing to do compared to her previous efforts. She has an amazing vocal strength and versatility and the song has the perfect tempo, a great hook and a nice melody. She wore a long black silk dress and a crown of flowers on her head. With her ​​were two male dancers wearing black trousers, bare-chested and with a crown of flowers like hers. In the back of the stage were three female backup singers dressed in black. The stage lighting was dark with several white flashes and the screens were illuminated in dark blue.
9. MyRadiantU – Going All The Way (Music and lyrics: Janis Driksna)
That indie-rock song has a warm and blissful tone to it which makes you feel great on the inside. They have all the signs of an indie-rock band but missing that special little spark. With so many songs of this style in this line up with similar orchestrations and including electronic elements, one could say that they are not going to stand out. The lead singer wore a black leather jacket, white shirt and black trousers. The rest of the band were all dressed in dark casual clothes. They were placed as a traditional band with the lead singer in the center of the stage, the two guitarists on the sides and the drummer in the back of the stage.
10. Aminata Savadogo – I Can Breathe (Music and lyrics: Aminata Savadogo)
After so many electronic songs it is nice to hear something different and much more if it is as good as this blues style song that provides a breath of fresh air. She had a great attitude combined with a faultless voice. Aminata was dressed alike her three dancers with a tight blue jumpsuit. On stage there were also two female backing singers dressed in blue. The screens were lit in orange, green and blue.
11. Dāvis Matskins – I Need More (Music and lyrics: Alise Ketnere)
The opening of the song is full of drama but it continues exploring the melodic potential of the keyboards and synths. It sounded very well arranged and produced and the guitar lines here worked very well over the synths. His vocal delivery was really good even though at times he was shouting too much. He wore a white shirt with a bow tie and black trousers with braces. He was moving around the stage throughout the whole performance with some rather ridiculous movements sometimes. With him on stage were three backup singers (two women and one man) all dressed in black.
12. Olga & Līgo – Saule Riet (Music: Tomass Kleins. Lyrics Guntars Račs)
Saule Riet which means sunshine is a simple song, guitar-based, which features some great harmonies and a catchy chorus. Olga's voice is astounding if you listen closely enough. There were six people on stage, three women and three men, all of them wearing folk costumes. The women wore navy jackets and long gray skirts while the men wore white shirts, black and white checkered vests and black trousers. Their choreography consisted of a typical Latvian dance very energetic and well synchronized.
The show:
The show started at 20:25 CET and it was hosted by DJ and event host Ēriks Loks and the actor Nauris Brikmanis from the Palladium Concert Hall in Riga. The stage was shaped like a diamond and it was surrounded by many small diamond-shaped screens that were illuminated in different colours for each performance. The crowd was standing in front of the stage, some of them with banners supporting their favorite artists.
The opening act was in charge of the folk group Dimantas. During their performance, a large group of dancers, men and women, performed a typical Latvian dance not on stage but among the people who were enjoying the live show. They all were dressed alike in typical national costumes.
Right after, all the performers came into the hall accompanied by their backing singers and dancers.
Each performance was preceded by a video of each of the singers introducing themselves.
The special guests of the show were the band Sinplus, Swiss representatives at the 2012 Eurovision Song Contest, who besides being two of the members of the professional jury, also performed their new single Up To Me.
Among the guest performances there were also some Latvian acts such as the band Dzelzs Vilks, the group Gapoljeri and the hip-hop artist known as Pikaso.
The results:
The top six who would qualify to the final were chosen by a 50/50 combination of the votes from the professional jury and the audience who for the first time were able to vote not just calling or sending text messages but also online on the broadcaster's website.
The lucky ones were: Olga & Līgo, Samanta Tina, Aarzemnieki, Niko, MyRadiantU and Aminata Savadogo.
The second semi-final will take place tomorrow. Stay tuned on EuroVisionary.
Latvia at the Eurovision Song Contest:
It debuted in 2000 being the band Brainstorm its first entrant achieving the third place with My Star and only two years later, Marie N won the contest with I Wanna. In recent years, it has not been as successful as it was in the early 2000s and since 2008 with Pirates Of The Sea, Latvia has not qualified to the final of the Eurovision Song Contest. Last year, the band PeR was 17th in the semi-final with only thirteen points.