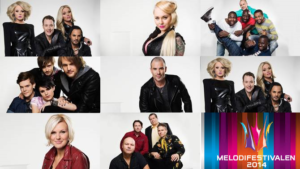 Saturday's result in Melodifestivalen was a fairly foregone conclusion, with Yohio cruising to the final but with newcomer Ellen Benediktsson nabbing the other place from under the nose of Helena Paparizou. This Saturday's line up is a similar mix, with two big names and a sprinkling of debutants – will it be a case of history repeating itself? 
Saturday sees two big names making a comeback at Melodifestivalen – the uncrowned queen, Sanna Nielsen making her seventh attempt, and judging by the feedback on her rehearsals, she's looking and sounding in good shape. Martin Stenmarck is also back after a nine year hiatus, following his crushingly bad placing with Las Vegas in 2005. Will these names come a cropper like Helena did last Saturday and could some of the newcomers be the surprise of the evening? Gen up on the contestants in the second heat of Melodifestivalen and make up your own mind.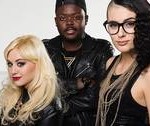 1. J.E.M. – Love Trigger (T & M: Thomas G:son / Peter Boström / Julimar "J-Son" Santos)
J.E.M. is a relatively new trio on the Swedish music scene. The band name is made up of the initials of all three members; Jeremie Yumba, born on the 19th of January, 1993 in Linköping, Elli Flemström born on the 9th of July, 1990 in Gimo and Mergime Murati, who was born on the 20th of December 1992 in Hörby. The pop-dance group came fourth in the 2012 season of X Factor in Sweden, having orginally auditioned for the show as solo artists. Their debut single Zoom was released in August 2013, and a few months later, their first participation at Melodifestivalen 2014 with the entry Love Trigger was confirmed, something all three are extremely excited about.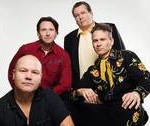 2. The Refreshments – Hallelujah  (T & M: Joakim Arnell) 
The Refreshments is a four piece rock band that was formed in Gävle in 1989. It features bassist Joakim Arnell, pianist and vocalist Johan Blohm, drummer Mats Forsberg and Jonas Göransson on guitar. They began their career playing mostly covers of 50's rock'n'roll numbers and worked under the name The King Cats up until 1991. Their first album Both Rock'n'Roll appeared in 1995 and marked an impressive run of album releases – seventeen in total. One of their major commercial successes was the 2003 album Rock'n'Roll X-mas. Since the addition of Johan Blohm to their line up, they have also incorporated a number of country numbers into their repertoire. As well as successful albums, the band have also enjoyed a string of successful singles, such as Miss you Miss Belinda and One dance, one rose, one kiss. The Refreshments has also collaborated with many musicians over the years, including British guitarist Dave Edmunds. Ralf Gyllenhammar set the stage alight quite literally with his rock number Bed on fire last year – The Refreshments intend to carry the rock tradition further this year with their entry Hallelujah.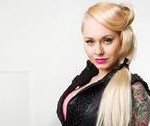 3. Manda – Glow  (T & M: Joy Deb / Linnea Deb / Melanie Wehbe / Charlie Mason) 
Manda or Manda Malina Nilsénius was born on the 6th of July 1994 in Bjärred, Sweden. She is a newcomer to the Swedish music scene but has been working on launching her music career for the past few years. The first natural step was to audition for a TV talent show to gain exposure. She tried at both Talang 2010 and Idol 2011, but failed to make it past the auditions. On her third attempt however, her talents were recognised, as she made her way to the finals of X Factor in 2012. The recognition was just what she needed to get the ball rolling, and her first single, Sweetest Heartbreak was released last year. Manda sees participation in Melodifestivalen as the next logical step in getting her career off the ground.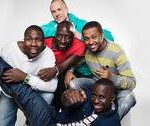 4. Panetoz – Efter Solsken (After sunshine) (T & M: Johan Hirvi / Mats Lie Skåre / Nebeyu Baheru / Njol Badjie / Pa Modou Badjie)
Panetoz are a five piece group that hail from the suburb of Jordbro in Stockholm. It comprises Pa Moudou Badjie, Daniel Nzinga, Johan Hirvi, Nebeyu Baheru and Njol Ismail Badjie. Their musical style is a blend of African influences, pop and hip hop. The group was formed by Pa Modou, Nebeyu and Tobias (a former member), and the group name is made up by the first two letters in their first names. Panetoz set up an inner city project, Vägen Ut Vi Unga in order to get youngsters off the streets and to help reduce crime, challenging instead their energies into creating music, and the initiative has been an unmittigated success.
They first came into the limelight in 2008, when they gained exposure through the song Efterfesten (After party) on a TV station. They were offered a recording contract with a Danish label, which led to the single being released throughout Scandinavia. Their official debut single however came in the summer of 2009 in the form of Mama Africa, which was released on their own record label – four of the group have African origins. The single was snapped up by radio and even led to them being warm up act for Busta Rhymes. Their subsequent single Känn dig fri (Let yourself be free) was equally successful, even making it onto MTV. Their major breakthrough however came in 2012 with the single Dansa Pausa; originally released in 2011, it was a slow burner eventually topping numerous charts almost a year later.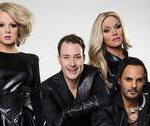 5. Pink Pistols – I Am Somebody (T & M: Joakim Törnqvist / Nestor Geli / Per Ivar Hed / Susie Päivärinta /Tord Bäckström)
Pink Pistols is a foursome who are coming to Melodifestivalen to party and put on a great show! The group is made up of Dennis Bröchner (born 14th of March, 1980), Conny Bäckström (born 14th of September, 1975), Matias Garzon (born 18th of September, 1983) and Mikael Landby  (born 26th of August 1980). The members have lengthy careers behind them as part of other acts – Conny and Dennis are members of the drag show troupe After Dark; Conny joined in 2004 and Dennis in 2012. Some of you may remember After Dark's cult Melodifetivalen classic La Dolce Vita from 2004 in addition to their 2007 entry (Åh) när ni tar saken i egna händer. Matias and Mikael also perform as the duo Straight Up : think an outlandish, camp version of The Pet Shop Boys. They were responsible for the song used at the annual Pride festival in 2011, Show the world tonight. The four have known each other for quite some time and only began to discuss working on a project together last spring, the result of which is The Pink Pistols. Two of the members (Dennis and Conny) perform in drag, something they themselves describe as Army of Lovers meets The Ark.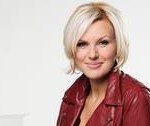 6. Sanna Nielsen – Undo  (T & M: Fredrik Kempe / David Kreuger / Hamed "K-One" Pirouzpanah)
Sanna Nielsen, born on the 27th of November, 1984 hails from Edenryd in southern Sweden. She made her singing debut at the aged eight when taking part in a talent contest. She went on to win the next contest she participated in 1994, while at the same time performing with the dansband Mats Elmes. Sanna took the song Till en fågel (For a bird) to the top of the Svensktoppen charts aged just eleven. Her voice has been compared to the likes of Carola and Sissel Kyrkjebø; a vocalist in great demand and was originally intended to sing Carola's 2006 entry Evighet (Invincible). Her first solo album appeared in 1996, entitled Silvertoner which was a commercial success. A whopping seven albums have since been released by Sanna, including Nära mej, nära dej (Close to me, close to you) (2006), Stronger (2008) and I'm In Love (2011).
She has quite the pedigree at Melodifestivalen too, beginning in 2001 with I går, i dag, finishing third. Two years later, she was back for more, ending in fifth place with Hela världen för mig (Whole world at my feet), which became a phenomenal success. She sang a duet with Fredrik Kempe, coming eighth in 2005 with Du och jag mot världen (You and me against the world). After a short hiatus, she was back in 2007 with Vågar du, vågar jag (I will if you will) ending up in seventh place. The next year she very nearly made it to Eurovision, coming in a close second with the big ballad Empty Room. Three year would pass before she returned i 2011 with I'm in love, which came fourth in the final. With the entry Undo, Sanna will be trying for a record seventh time at Melodifestivalen – could this finally be her year?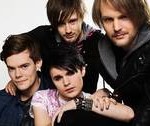 7. Little Great Things – Set Yourself Free   (T & M: Charlie Grönvall / Cristoffer Wernqvist / Felix Grönvall / Adam Dahlström) 
The band Little Great Things are four young men, two of whom have quite a prominent Eurovision connection. The band consists of Charlie Grönvall (born 29th of June, 1990), Felix Grönvall (born 4th of April, 1992), Christoffer Nilsson Wernqvist (born 24th of May, 1990) and Adam Dahlström (born 11th of September, 1990). Some of you may have already deduced that Felix and Charlie are brothers. They are also the sons of fan favourite Nanne Grönvall and of Peter Grönvall, making them the grandsons of none other than Benny Andersson of ABBA. Their music on the other hand has a sound that couldn't be further away from ABBA – they make music with a pop/rock sound, something they've worked hard at perfecting over the last five years. Despite their rocker image, they have no qualms about participating in Melodifestivalen – on the contrary – they can't wait to showcase their sound to the viewers.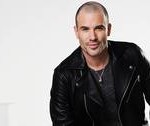 8. Martin Stenmarck – När Änglarna Går Hem (When The Angels Go Home)  (T & M: Andreas Öhrn / Alexander Bard / Martin Stenmarck / Peter Boström)
Singer Martin Stenmarck was born on the 3rd of October, 1972 in Täby. He has been commercially active as an artist since 1997, but prior to that, his interest in music began already in his teens, with his involvement in the band Lorien. He won the national finals of Talang-91 with his brother and promptly relocated to Stockholm, where he found work as a model and as a singing waiter at Wallmans Salonger. A quick stint as singer with the group Sha Boom followed in 1992. He worked at Wallmans up until 1997, when he held one of the lead roles in a production called Showduellen, which he toured nationwide with over the next three years. He has played larger roles in productions such as West Side Story.
Fast forward to 2005 and it was time for Martin to make his debut at Melodifestivalen. He took his slick entry Las Vegas to the final and ended up winning the contest, but placed a disappointing 19th place in Kiev.  Success however wasn't far away. The release of his single 7milakliv in 2006 rocketed to the top of the charts, occupying the top spot for several weeks. He has released six albums proper, with his 2006 release Nio sanningar och en lögn (Nine truths and one lie) reaching number one. Martin also has four Swedish number one singles to his name; Las Vegas (2005), 7milakliv (2006), 100 år från nu (blundar) (100 years from now (close my eyes)) (2007) and A million candles burning (2008). Apart from being a successful vocalist, he has made a rather nice sideline in dubbing animated films, having been one of the voices in Cars. He has also tried his hand at being a TV presenter and has since 2011 presented the show Kvällen är din and later this year will star in the film Kärlek Deluxe. This will be Martin's second attempt at Melodifestivalen with När Änglarna Går Hem. 
You might also like to read: