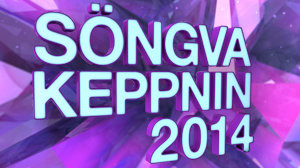 Gissur Páll Gissurarson and Greta Mjöll Samúelsdóttir were the first to secure two places in the Icelandic final in just under two weeks time. Broadcaster RÚV has just released the five remaining songs featuring in this Saturday's semifinal – who will be a hit and who will be a miss? Listen to the songs here and make up your own mind.
With a big, romantic ballad in the form og Gissur Páll Gissurarson's Von and feelgood eukele from Greta Mjöll Samúelsdóttir with Eftir Eitt Lag, it's anybody's guess as to how the Icelandic public will vote on Saturday evening. In this week's line up, we have a great mix of ballads and uptempo numbers to choose from. Be sure to tune in on Saturday at 19:45 hrs (20:45 CET) and see how the next batch of contenders fare.
the line up features some names that are more familiar than others – half of F.U.N.K. have already participated in the Icelandic preselections; in 2012 to be more precise, with the boyband Blár Ópal who came second with Stattu Upp! They should have no problems in putting on a good show, but will their entry this year be as immediate and catchy? Pollapönk is another name that is a force to be reckoned with, enjoying immense popularity with both children and adults alike, so their name is surely one to watch.
The line up for the second Icelandic semi final is as follows (songs can be heard by clicking on the links provided):
Some of you with photgraphic memories may very well recognize two names among the songwriters of Saturday's entries:  María Björk Sverrisdóttir and Marcus Frenell. They worked together on Jóhanna's big ballad an fan favourite in 2011, Nótt, as well as Regina Ósk's playful dance number Hjartað Brennur from 2012, so expect a worthy challenger with Guðbjörg Magnúsdóttir with her radio friendly number Aðeins ætluð þér. A jury will select an additional two acts will be selected from the six acts that don't make it out of the semi finals.
You might also like to read: