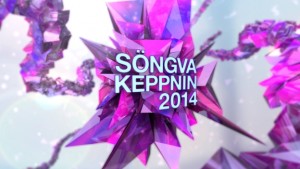 With the first of two semi finals in Söngvakeppnin 2014 a matter of days away, Icelandic broadcaster RÚV released today the first five of the ten entries online. The first five songs were aired for the first time on the Rás 2 channel this morning. The remaining five entries will be available from the 3rd of February.
We have grown accustomed to a grandiose final for such a small country these last few years, with the spectacular conference centre Harpa being the host venue. This year's preselection has been downscaled somewhat, moved instead to the considerably smaller venue Háskólabíó (university cinema) nearby, but should provide an intimate setting for proceedings when the first semi final kicks off this Saturday at 19:45 hrs (20:45 hrs CET).
There is something to suit everybody's taste among the first five entries battling it out for a place in the final. Sverrir Bergmann is hoping his sixties swing pastiche Dönsum burtu blús brimming with positivity and pep will do the trick and win those all important votes. He's in for some stiff competition though, from Greta Mjöll Samúelsdóttir who is on after him performing another uptempo number in the form of Eftir eitt lag. For the romantics among us, there are semi operatic tones provided by tenor Gissur Páll Gissurarsson and his swoonsome entry Von. Ásdís María Viðarsdóttir is confident that her sultry performance of the eclectic Amor will convince viewers, while Vignir Snær Vigfússon is aiming to reach the final with his feelgood entry Elsku þú.
The line up for the first Icelandic semi final is as follows (songs can be heard by clicking on the links provided):
Some of you may recognise Vignir Snær Vigfússon – he has performed for Iceland previously, as one of the members of Sjonni's Friends with Coming Home in Düsseldorf in 2011. The names of the composers behind Sverrir's entry may not seem familiar at first, but if we say the name StopWaitGo and The Saturdays to you, many will perhaps remember the song Disco Love which they wrote and which became a sizeable hit in the UK. Be sure to check back with us later in the week, when we will bring you
some background information about the first five contenders. The remaining five entries will be made available from the 3rd of February on the official RÚV Söngvakeppnin website.
You might also like to read: