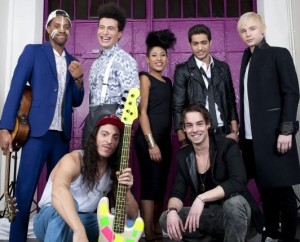 Today the snippets of the three entries competing to represent France at the upcoming Eurovision Song Contest was released. We have to wait until Sunday to listen to the full songs, but what is clear is that they are three very powerful songs, each with their unique style.
Former representative and host for the upcoming French Eurovision selection, Natasha St. Pier, attended this morning the radio show called Le Grand Direct Des Médias where, taking advantage of her presence, snippets of the three candidate songs to represent France in Copenhagen were released.
Sans Toi, the song from the boyband Destan, is a mid-tempo ballad with great vocal harmonies and lyrics in English and French; Joanna's song, Ma Liberté, is a powerful ballad written by famous Maltese composers; and Moustache, the song from Twin Twin, is an electropop tune from which we can expect a very interesting live performance.
The full songs will be premiered on Sunday at 16:40 CET when the three acts will be performing their entries live during Natasha's show Les Chansons d'Abord. Right after their performances, the televoting will officially open and the audience will be able to cast their votes until the 23rd of February. The name of the winner will be known on the 2nd of March.
The event will also be attended by some guests among which are some former French Eurovision representatives such as Marie Myriam (1977), Amaury Vassili (2011) or Anggun (2012).
Stay tuned on EuroVisionary for a full report about the show on Sunday afternoon.
You can listen to the thirty seconds snippets in the video below.
You might also like to read: