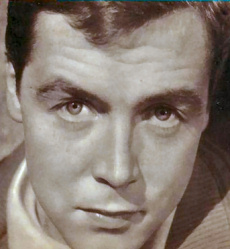 Frenchman François Deguelt was already an extremely productive recording artist in the 1950's prior to his representing the tiny principality of Monaco twice at the Eurovision Song Contest in the 1960's. The sad news of his passing away yesterday was announced in French media earlier today. 
Born in Tarbes, in the Hautes-Pyrénées region of France in 1932, François Deguelt or Louis Deghelt as he was christened had originally other career aspirations in mind before entering the glamorous world of entertainment. He was persuaded to give up his philosophy studies in the early fifties, moving to Paris to become a cabaret singer at the Tire Bouchon at Monmartre. It wouldn't take long for his vocal abilities to receive recognition, already in 1956 he was winner of the prestigious Grand Prix du Disque award. However, duty called in the late fifties and he was obliged to perform his military service in Northern Africa.
After returning to his homeland, he performed on stages such as the Olympia and A.B.C. before being asked to represent Monaco for the first time at the Eurovision Song Contest in 1960.  François jumped at the chance, and so took the song Ce soir-là (That evening) to London and earned Monaco a highly repectable third place. He went on to record an impressive eighteen more songs before being requested once again to represent the principality, at the 1962 Eurovision Song Contest, this time a little closer to home. The contest took place in Luxemburg and he took Monaco to the dizzying heights of second place with the entry Dis rien (Say nothing). His second and third placings have earnt him entry into a rather unique group in Eurovision terms – there are only five other artists who have appeared at the contest and managed the same feat: Cliff Richard, Katja Ebstein, Chiara and Željko Joksimović being the other four.
He continued to record after both appearances and recorded almost a hundred songs throughout the sixties and seventies, scoring major hits in the process with songs such as Le Ciel, le soleil et la mer, Le printemps, Minuit, le vent, la nuit and La libération. He carried on touring and performing throughout the french speaking world enjoying a special appeal to fans of nostalgia right up until as recent as 2006.
He passed away at his long time home of Var on the Côte d'Azur yesterday after a lengthy period of illness aged 81. EuroVisionary offers it sincerest condolences to his family.
You might also like to read: