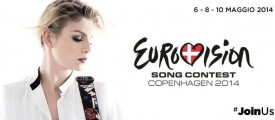 The rumours circulating on the internet for some time have been confirmed! Emma Marrone, one of Italy's most successful young female singers, has been selected internally by broadcaster Rai to represent the country in this year's Eurovision Song Contest.
Emma Marrone was born on 25th May 1984 in Florence. She started out her musical career by participating in several bands before winning the Italian talent show Amici di Maria De Filippi in 2010 which led to her signing a record contract as a solo artist. She has since achieved a string of successful releases including three number one albums in four years; her latest album, Schiena, was released in April 2013 and went on to become twice platinum. 
Today, a post on the artist's official website confirms: 'Rai announced that Emma will be to defend the colours of Italy in the next Eurovision Song Contest 2014. The international competition, which, in this edition, sees 37 countries in the race, is to be held in Copenhagen (Denmark) and, this year, RAI will broadcast the event on their own channels. In particular, the semi-finals on 6th and 8th May will be broadcast live on Rai4 while the final on 10th May live on Rai 2.'
It therefore appears that Rai, Italy's state broadcaster, decided not to use the popular Sanremo Music Festival for the selection of the Italian Eurovision entry. Since the country's return to the contest in 2011 and after an absence of some years, the Sanremo Music Festival has provided Italy with credible artists such as Raphael Gualazzi (2011), Nina Zilli (2012) and Marco Mengoni (2013) who went on to achieve good placings in the Eurovision Song Contest (2nd, 9th and 7th place respectively). Emma Marrone has been a Sanremo participant herself: she achieved second place in 2011, a duet with the band, Moda, and actually won in 2012, but appears not to have been shortlisted for this year's edition of the festival.
There have not been details made known about the song that Emma is going to sing in the 2014 Eurovision Song Contest at the time of writing this article.
You can see Emma performing her song Non è l'inferno at the 2012 Sanremo Music Festival as well as Italy's 2013, 2012 and 2011 entries in the following videos.
You may also want to read:
TVE present the five candidates to represent Spain at the 2014 Eurovision Song Contest
Eurovision 2014: Allocation draw result
Mei Finegold to sing for Israel in Copenhagen
Links