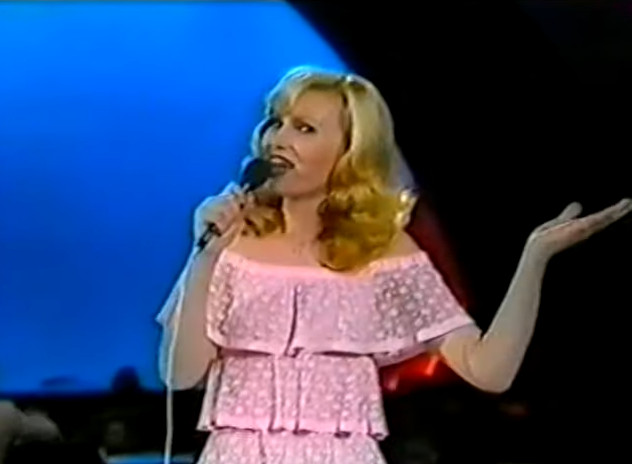 The pearl of Eurovision that we miss, Monaco, has treated us fans with many unforgettable classics during their 24 participations. Should we count their 1977 entry, Michèle Torr's 'Une Petite Française' among those classics? Eurovision's fans do not really agree.
In 1977, Monégasque broadcaster TMC internally selected 30-year-old French artist Michèle Torr and her song Une Petite Française to represent Monaco in Eurovision Song Contest.
The Eurovision Song Contest 1977 took place in London, United Kingdom on the 7th of May 1977 at the Wembley Conference Center. Michèle Torr took the stage second in line on behalf of Monaco. She sang her mid tempo ballad Une Petite Française in her pink dress. At the end of the show, after the voting, the small principality collected 96 votes which placed them 4th.
Une Petite Française – opinions from fans
In order to find out what Eurovision fans today think of this Monégasque entry from 1977, we asked our Eurovision Fan Panel. It includes team members as well as fans from all over the world.
🇬🇧 Aaron S. – Michèle Torr has sent two good entries to Eurovision and her song in 1977 for Monaco was my favourite, I think it is a nice entry, her voice really shines on stage, and is rather enjoyable for a ballad. I, much prefer the song in French to the other languages she recorded it in, it makes it feel much more special.
🇵🇹 Inês M. – Good job! The main star of this performance is, without a doubt, the elegant instrumental. The vocalist has an excellent voice, but the instrumental stands out. It is a beautiful, classic song, and it does its purpose well.
🇫🇮 🇨🇴 Alvaro S. – Elegant song as many of the classics in the French language, precisely on the year France won for the last time. Michèle performed with a great interpretive strength as she has sung.
🇩🇰 Charlotte J. – Monaco have had many great entries through the years they took part. Unfortunately, I don't think 1977 is one of them. Michèle's voice doesn't come as pleasant to my ears, and the song itself doesn't do much either, and the dress… even by late 1970s standard, that was horrible. There's not much I like here really. Sorry.
🇬🇧 Michael O. – Michelle is a pretty good singer, but I'm sorry Monaco or not, by 1977 these type of songs had had their day. The change in tempo also jars. They were very lucky to beat better entires from Germany and Belgium.
🇳🇱 Frank S. – OK, OK, this is a guilty pleasure Michèle Torr's Une Petite Française. How can you not love this middle of the road original from Monaco? A great voice and how I miss the orchestra of back in the days! A 4th place is a great result for this song (still humming out loud!) 😉
🇹🇷 Gunec G. – This is one of the feel good melodies I listen to quite often. Another 70s elegance. When I hear some songs today, I miss those classics more, I think this is what getting old is 🙂
🇷🇴 Doina A. – I just saw the video, and it was like walking in Paris and in province… a nice melody, remembering the Golden Years of chansonette. The melodic line had two parts, yet the lyrics, chorus, Michele's voice, interpretation and presentation made a pleasant impression. I really enjoy watching this nice Une Petite Francaise.
🇬🇧 🇬🇷 Melanie G. – Absolutely love this, it reminds me of travelling in the 70s, excellent nostalgia and wouldn't be upset to listen to it more often.
🇦🇺 Michael R. – You know how there are some songs you just can't get behind but can acknowledge the merits of it?… that's how I feel about this song. Her voice fantastic, the song itself isn't at all bad, but It just doesn't appeal to me.
Enjoy Michèle Torr's performance from the 1977 Eurovision Song Contest in the embedded video. Below the video, you can read more about them.
Michèle Torr – a mini biography
Michelle Cléberte Tort aka Michèle Torr was born on the 7th of April 1947 in Pertuis, Vaucluse, France.
She has participated at the Eurovision Song Contest twice representing Luxembourg in 1966 with her song Ce Soir Je T'attendais, and Monaco in 1977 with Une Petite Française. Earlier, at the age of 15 in 1962, she attended a local song contest in Avignon On Chante dans mon Quartier and won the contest singing Edith Piaf's Exodus. Legendary Mireille Mathieu was the runner-up after Michelle that year. This was her ultimate breakthrough.
1964 was also amilestone in her musical career. She gave a concert in at Paris Olympia with Jaques Brel and released her first album Dans Mes Bras Oublie Ta Peine that year. She released many albums and singles until 2016. And also found time to write two books in 1999 and 2005. She is still giving concerts periodically.