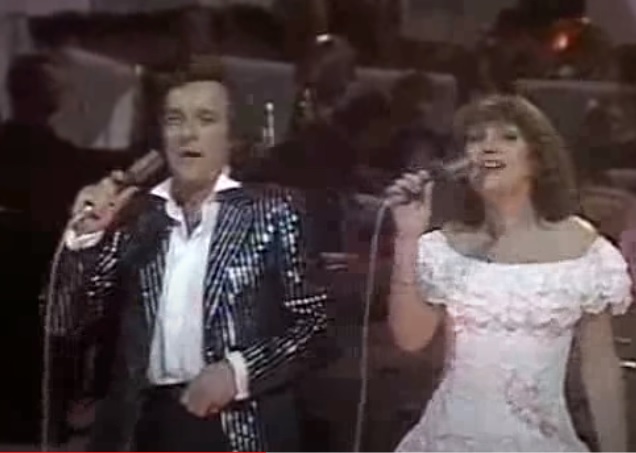 Monaco has been a very remarkable country in Eurovision with their 24 participations starting from 1959 till 2006. The little country has one victory from 1971. Their 1978 'Les 'Jardins De Monaco' finished 4th and while some fans really like it, others find it forgettable.
Monegasque broadcaster TMC and Monaco sent French singers Caline and Olivier Toussaints to Eurovision Song Contest in Paris in 1978 with their mid tempo disco style song Les Jardins De Monaco. The song was composed by Paul de Senneville and Olivier Toussaint. Lyricists were by Jean Albertini and Didier Barbelivien.
In Paris, Caline and Olivier took the stage 14th in line. After the voting, they had received 107 points for Monaco which earned them a 4th place. The song is about sweet childhood memories in the gardens of Monaco.
Les Jardins De Monaco – opinions from fans
In order to find out what Eurovision fans today think of this Monegasque entry from 1978, we asked our Eurovision Fan Panel. It includes team members as well as fans from all over the world.
🇩🇰 Charlotte J. – A nice little '70's song, enjoyable and easy to sing a long to. If I heard this before, I have forgotten about it again. It's quite catchy though. It's not one I would put on myself, but I don't feel like skipping it either.
🇲🇹 Christopher D. – It is difficult to give an opinion on a song that was presented in 1978. I heard it today for the first time. It s not like other more recent entries that I hear from time to time. As a first impression, this song is quite catchy and both singers have a presence on stage given it was more than 40 years ago. It s not something I will go back and play again, but I really wish Monaco can get back to the contest. It would be great to have you back.
🇨🇴 🇫🇮 Alvaro S. – I like the disco vibes in the chorus. This song really benefit from the orchestra. The sound of the violins is really enjoyable. It is cute at some points when Caline & Oliver seem to be singing to each other but it is also catchy.
🇬🇧 Ashleigh K. – I surprised myself with this one, at the start I wasn't sure that I would like it but it turned out to be a nice entry. I would have liked to see a little more movement on the stage as it was boring to watch but it was a joy to listen to.
🇨🇿 Josef S. – What can be better for the song to be recognised by the public than putting the country's name in the song title? That's what Monaco did back in 1978 and it just proves that there was always place for duets at Eurovision. And this catchy song, that sounds like a ballad in verses, but has faster refrains, is a good example of a Eurovision duet.
🇹🇷 Gunec G. – I have discovered this song a couple of years ago while watching the 1978 contest again on YouTube. I really liked the catchy melody and the singers' energy on stage. I actually bought the vinyl for this song 🙂 I like the elegance, the nostalgia in this entry. And I miss Monaco in Eurovision.
🇬🇧 🇹🇭 John E. – I used to like many of the old Monegasque entries, but sadly this is not one of them. I find it instantly forgettable but its fourth placing suggests there will be many who disagree with me. Strong singers tried hard but this is the kind of music I would expect to hear playing in the background shopping at the supermarket.
🇵🇹 Linete A. – The song is very typical of Eur in the 70s and I love the orchestra! The orchestra is what I like most about the song. The two singers have beautiful voices which harmonise very well together. The song is a bit repetitive, but quite beautiful in the French language. I actually like the song.
🇳🇱 Jacques H. – Les jardins de Monaco, les violins de Monaco, the strings of Monaco. I find the song a wee bit simple, with a very static singing couple, of which Oliver is clearly the lesser of the two. Caline has a very sympathetic voice, but I find Oliver's voice not on par. Back to the strings of the orchestra. They are the true heroes of this song. Great arrangement and they add to the drama of the song, which the tune truly needed. Not the best ever, but pleasant to hum with…
🇬🇧 Michael O. – Seems the juries in 1978 were determined to reward the most old fashioned songs in the contest, so this one from Monaco certainly filled that criteria. Great on an easy listening album but way way out of date in 1978.
🇭🇺 Vangelis M. – I really am not into old songs of the Eurovision Song Contest except for some specific entries. Sadly Monaco in 1978 is not one of these entries I enjoy. I found it boring and I could not listen to the whole song. I am glad that Eurovision has levelled up since then!
Enjoy Caline and Olivier's performance from the 1978 Eurovision Song Contest in the embedded video. Below the video, you can read more about them.
Caline – a mini biography
The French artist Corinne Sauvage aka Caline started her musical journey at the age of 8 by participating in a local singing contest. She recorded her first single Ta Rolls, ta moto, ton bateau in 1973 under the stage name Caline. Caline tried for Eurovision for France in 1977 participating in the national final with her song La poupée. The following year, in 1978, she represented Monaco as a duo with Olivier Toussaint with the song Les jardins de Monaco  She has worked as back vocalist for stars such as Johnny Hallyday, Silvie Vartan, Dalida, Yves Montand, Nana Mouskouri, Demis Roussos and many more. She has released numerous albums and singles from 1973 until 2016.
Olivier Toussaint – a mini biography
Olivier Toussaint was born in Paris to a family of Opera singers. Ironically, his mother wanted him to study economics and social sciences and so he did at University in Paris. However, he started making music right after he graduated. He has formed and worked with a couple of bands and he also worked with famous musicians such as Richard Clayderman. In 1977 he co wrote Monaco's Eurovision entry performed by Michele Torr Une petite française. The following year he himself represented Monaco with the song Les jardins de Monaco as a duo with another French artist Caline. His compositions collaborated with his musical partner Paul de Senneville were performed by stars like  Michel Polnareff, Christophe, Dalida, Petula Clark, Claude François and Mireille Mathieu. Olivier has many singles and albums released from 1974 till 1985.