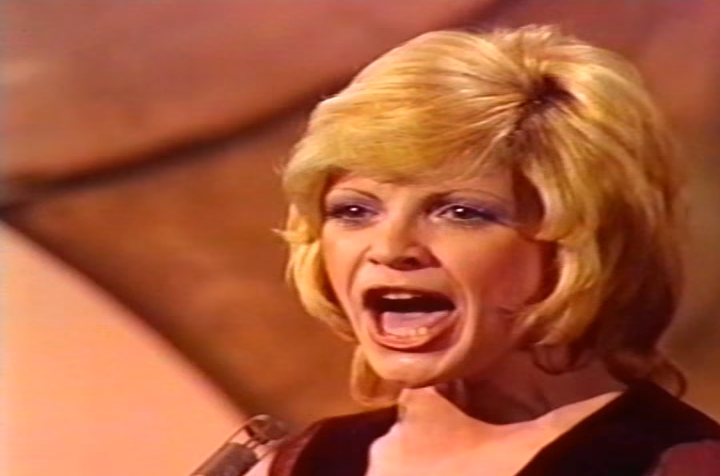 Monaco first entered the Eurovision Song Contest in 1959, and in their first twelve appearances they placed in the top ten, ten times. In 1971, on their thirteenth attempt, they finally took top prize.
Broadcaster TMC, internally picked French singer, Séverine to represent them at the 1971 contest, to be held in Dublin, Ireland. The song, Un Banc, Un Arbre, Une Rue, was written by Jean-Pierre Bourtayre and Yves Dessca.
Séverine performed third on the night of April 3, accompanied by a four piece male backing group. At the time two jury members awarded each song a mark out of five. Six juries gave the song the maximum ten points, Norway, Germany, Switzerland, Belgium, Sweden and Yugoslavia. The country which came second, Spain awarded the song the minimum two points. Monaco won the contest with a total of 128 points.
Un Banc, Un Arbre, Une Rue – opinion from fans
In order to find out what Eurovision fans today think of Monaco's 1971 entry, we asked our Eurovision Fan Panel. It includes team members as well as fans from all over the world.
Michael O. – This is one of the best Eurovision winners ever. Back to the days when the right song won. A classy French song from a wonderful singer, who always gave a great performance on stage. This song has never lost its appeal as it becomes nearly 50 years old. Excellent.
Mária P. – A beautiful ballad with a pleasant melody, and a great and convincing performance by Séverine. This entry had the ingredients to become the winner of the contest, and it was indeed. Nowadays it's a classic in Eurovision. The beautiful sound of the live orchestra in a song like this is also remarkable.
Grace W. – Monaco's entry in 1971 is one of the more forgotten winners, and kind of underrated to be honest. It's good, but it's one of those songs that stick with you and get stuck in your head on a broken loop. 9/10 from me.
Charlotte J. – This is a well deserved winner – and a classic Eurovision entry. Séverine changes between fragile and extremely secure and confident in this performance, and I love that. It's a catchy song, and the tune gets easily stuck in ones head. I am prepared for this to still be in my head the rest of the day.
Robert I. – This is an all time classic that even to this day nearly 50 years after, is among the absolute top of well deserved evergreens of Eurovision. An outstanding vocal, a powerful chorus and a beautiful melody.
Alvaro S. – I like the stage presence of Séverine in her 1971 winning performance, in particular the way she looks at the camera during the chorus gives a dramatic effect. Although I like Karina's song better from that year Séverine's song was a strong contender.
Amira M. – I do not have much to say other than I like her dress,her performance and she has a beautiful strong voice.Overall I like the song.
Alberte B. – It's a really nice song! Séverine sings it really well, and it's beautiful
Below you can watch that performance from 1971 when Monaco achieved their only win and then read a little about  Séverine after the video.
Séverine – a brief biography
Séverine was born in Paris, and at the age of 22 represented Monaco at Eurovision. Her winning song was released on CBS records with the title Chance In Time, but it was the original French version on Phillips Records which became the hit, all over Europe.
Séverine attempted to represent Germany on a couple of occasions, in 1975 and 1982, but was seen off by Joy Fleming and Nicole. Nevertheless Séverine did manage to score several chart hits in Germany.
Keeping with the Eurovision theme, Séverine recorded Il Faut Chanter La Vie, a French version of Power To All Our Friends, Cliff Richard's 1973 U.K entry.
In 1981 she was back in the German charts with her version of the Goombay Dance Band's Seven Tears. Séverine still occasionally performs today and her Facebook page is regularly updated.