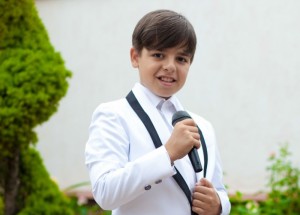 The national selection took place this weekend where four performers were presenting their entries to the professional jury who decided that Rafael Bobeica will represent Moldova at the 2013 Junior Eurovision Song Contest with a powerful ballad entitled Cum Să Fim which means How To Be.
A total of five acts were expected to participate at the Moldovan national selection for the 2013 Junior Eurovision Song Contest. Finally, they were only four after the withdrawal of Tatiana Ţîgîrlaş.
The show was streamed live on TRM website from the TV Studio 2 of TRM and the final decision was only in the hands of a professional jury which was made of seven people. Among them were performers, composers, lyricists, music teachers and public figures. Each jury member had to judge the songs based on their melody, lyrics, vocal and style awarding points from 1 to 10 for each entry.
The interval act was in charge of last year's Moldovan representative at the Junior Eurovision Song Contest, Denis Midone, who was of course singing his entry Toate Vor Fi. He also sang a version of Mihai Traistariu's song Tornero, Romanian entry at the 2006 Eurovision Song Contest, and Runaways which was performed last year by Boris Covali at the Moldovan national selection known as O Melodie Pentru Europa.
Below you can see the participants of the competition in the same running order of the show and how many points they scored:
Rafael Bobeica – Cum Să Fim – 62 points
Daria Boboc – Lasă-Mă, Că Eu Am De Învăţat – 47 points
Rozalinda Buldumea – Bombonica – 47 points
Andreea Braga – Euromelody – 60 points
Rafael was born in Lisbon in 2002, but he moved to Moldova at the age of two. He has been studying music since he was five years old and he has also participated at several music competitions in Moldova having won the international contest Nova Latinitas in 2009 or the Grigorye Vieru festival in 2010. He has also participated in many music festivals abroad such as Cerbul De Aur, Ring Star or Ceta Lui Pitigoi in Romania, Cristal Magnollia and The Blue Bird in Russia, Flowers of Spirituality in Ukraine and Voice of the Planet in Turkey.
He is such a star in Moldova. To prove it, we only have to see the celebration of his eleventh birthday, which took place at the Opera and Ballet Theatre of the Republic of Moldova where he sang accompanied by the Symphony Orchestra. Several renowned artists also performed with him to celebrate this special day.
At the 2013 Junior Eurovision Song Contest Rafael will perform the song Cum Să Fim which means How To Be, composed by Eugen Doibani who was also behind the 2011 Junior Eurovision entry No, No by Lerika. You can watch Rafael singing his Junior Eurovision entry in the video below.
You might also like to read: