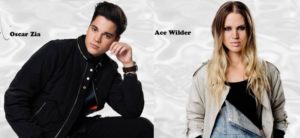 Eight acts competed, two were awarded with a direct qualification to the final, another two gets a second chance, while the remaining four are out of the run to represent Sweden at the 2014 Eurovision Song Contest. At the end we saw the older experienced names failing. 
Tonight's Melodifestivalen heat was the third of its kind this season. Four artists had qualified directly to the final in the previous two heats. They are:
Heat 1: Yohio and Ellen Benediktson
Heat 2: Sanna Nielsen and Panetoz
The songs: (You can read more about the artists in our Get To Know article)
1. Outtrigger – Echo (Songwriters: Outtrigger, Joy Deb, Linnea Deb, Anton Malmberg Hård af Segerstad)
We start out with a big bang in terms of a hard rock entry from this five man band. The song is energetic and though it is not much of a sing a long song, it does provide a strong chorus. The five band members starts out being in each their metal cage, the instruments being locked up with them. The leadsinger is trapped in a straitjacket before he managed to break free from it, and also comes out of the cage. Near the end the other band members are being let out as well having all five of them ending on stage, free, and in good health. Reports today told that this was an ending SVT insisted on as they feared that children would get scared if the bandmembers not ending up coming free.  
2. EKO – Red (Songwriters: Joy Deb, Linnea Deb, Anna Lidman, Hannes Lundberg och Michael Ottosson)
From this trio we are being served to a song which offers an interesting mix of pop and electronic wrapped in, in a bit of mystery. The female leadsinger is dressed in a short black dress while the two male members are with a keyboard and an electronic drumkitt. The stage is kept in dark blue and red, which suits the little mystery. 
3. Oscar Zia – Yes We Can (Songwriters: Fredrik Kempe, David Kreuger och Hamed Pirouzpanah)
Some might remember that the American president Obama used Yes We Can as slogan for his first election campaign. Back then it was served extremely powerful, but unfortunately that is not the case this time. It is a nice enough pop song which is easy to sing a long to. With about a minute left heavy drums are added, which unfortunately destroys the song a bit. Oscar Zia performs solo with four male dancers around him. They are all hidden behind TV's at the beginning of the song showing Oscar's face. Soon the TV's dissappear and they dance freely. They are all dressed casually. The performance shows a clearly inspiration from Mr. King of Pop, Michael Jackson. 
4. Shirley Clamp – Burning Alive (Songwriters: Bobby Ljunggren, Henrik Wikström, Marcos Ubeda och Sharon Vaughn)
A lot of pressure is on Shirley tonight having so much experience and so many fans as she does, but she seems to be able to handle it. She comes with a pop song, that starts out as a ballad, but later grows. She is dressed in a long dress, which has a long split at the front and includes see through parts as well as leather. Smoke, a burning ring in the background, windmashine plus red paper hearts, that is what is used for the visual part of this strong song, which stand with a good chance of reaching the final.
5. State of Drama – All We Are (Songwriters: Göran Werner, Emil, Gullham, Sanken Sandquist och Sebastian Hallifax)
We continue with a pop-rock song with an extremely catchy chorus. This one easily gets stuck in your head and as such it should have a good chance of at least reaching the top 4 from this heat. They start out in a classic band line up on the stage, which is rather dark. The leadsinger plays a bit with the camera in some close up's shots. A megaphone is being used to shout up the crowd on this song whose title you really can't forget as it is displayed on the backdrop throughout the song. Pyrotechnics in pink are used for the stage show, which is carried on the way by the audience having small flash sticks to use through this song.   
6. CajsaStina Åkerström – En enkel sång (Songwriter: CajsaStina Åkerström)
The title of this entry translates to "A simple song" and that is exaxctly what this is, a simply song. It is sung in Swedish, something that adds to its charm. It is sung well, performed well, but maybe it is just too simple. This ballad comes with bits of folk music and all attention is on the song. CajsaStine herself is dressed in dark trousers and a black t-shirt, nice enough, but nothing that distracts at all, which is just as it should be. With the background also being quite dark you only notice the song and the many lights throughout the arena from the audience showing as candlelights, and that might just be what sells this song despite this type of songs usually having problems in competitions like this. Snow is falling down at the end of this song, which all in all comes across as extremely beautiful in all its simpleness.
7. Ace Wilder – Busy Doin' Nothin (Songwriters: Ace Wilder, Linnea Deb och Joy Deb)
Here we have a pop song, which after about a minute kicks in with a electronic dance part. If you don't like that, it will please you that it is quickly over, but unfortunately it returns later again. The song has some good parts and a hock like everyone can sing a long to, "I am busy, busy, busy, doing nothing at all", but instead it appears like they are busy with a lot of different things on this song, which appears disturbing. Ace Wilder is dressed in casual lose red trousers with a gold belt, and a short white top with the number 7 printet on the front refering to her starting number. With her on stage she has four male dancers all dressed in prison suits. All four dancers also hear do a reference to Michael Jackson by they way they are holding their crouch.
8. dr. alban & Jessica Folcker – Around the World (Songwriters: dr. alban, Jakke Erixson och Karl-Ola Kjellholm)
As expected when it is dr. Alban then we ends with a dance song. In Jessica Folcker we however gets a pop chorus on this song, which is a nice way to end this Swedish heat. It is catchy and easy to sing a long to, and should also stand with a good chance of being able to continue in the selection. dr. Alban is dressed in a white long jacket suit, Jessica in a white short dress. They have four dancers with them in this performance where the stage is extremely colourful and pyrotechnics and paper leaves in various colours, are being used.   
The show:
Each of the six heats in Melodifestivalen 2014 are hosted by Nour El Refai och Anders Jansson and all of them kicks off at 20:00 CET. Tonight's show started out with her wearing suit and tie, and him in a short shoulder bare dress! They had simply swapped identity. Later they get their own clothes back.
In the first heat of this year's Melodifestival we saw Denmark being the victim of the Swedish humour as they tried to erase all evidence of the Danish Eurovision Song Contest victory from last year. They burned fluets on stage and at the very same spot in Malmö Arena where Emmelie de Forest stood when she won, they used an exercosist cleaning that spot. Tonight it was their Norwegian neighbours who saw themselves being made fun at with the interval act titled "Sotji The Musical". Here comedian Johan Glans had gotten the role as Norwegian athlete competing against Anders Jansson as the Swedish athlete.
During each Winter Olympics the two countries have a very intense fight over who gets most medals in the skiing disciplines, but tonight it was slightly different than usual Olympic disciplines they were fighting at: Figure-skating shooting, ski jump for siamese twins, snow angel battle, two-man bobsleigh for homofobics, and Child throwing for Curlingparents (Curling parents is an expression that refers to parents who overprotects their children with clearing the path for them all the time without the child learning to handle things themselves. In English this is called Helicopter parents, but in the Scandinavian countries the word comes from the sport discipline Curling where you sweep the floor in order to give the stone an easy and clean path. EDT.)
Just to make sure then the current medal overview from Sochi, Russia shows that Norway has won 4 goal medals with a total of 13 medals. Sweden lacks a bit behind with 1 gold medal and 8 medals in total, at time of writing. The fact that they just today won the first gold medal, but still is behind from Norway was also mentioned in tonight's MF heat.
In the chase for the envelop with the four qualifiers, a film was made which showed the entire city of Gothenburg almost being totally damaged, but finally the got the envelope.  
The voting:
As usual we saw two voting rounds in the Swedish qualifying heats. The three acts who recieved the least amount of songs were kicked out first as five acts were left to compete in another voting round for four places to stay in the selection. 
After that the finalists and the qualifiers for the second chance round were announced and the poor 5th placed entry saw itself out of the competition, but still somewhat close to having made it.
Before the final result was given we saw a clip from Alice Babs in her Eurovision performance. She passed away just a few days ago so this served as a little tribute to her. 
To the final went: Oscar Zia and Ace Wilder.
To the second chance round went: Outtrigger and State of Drama.
The remaing results:
5th place: dr. Alban and Jessica Folckner.
6th place: Shirley Clamp
7th place: CajsaStina Åkerström
8th place: EKO
Sweden at the Eurovision Song Contest:
Sweden had its Eurovision debut in 1958 where Alice Babs, who sadly passed away just a few days ago, sang Lilla Stjärna. Sweden is one of the most succesful countries having won the Eurovision Song Contest a total of five times; in 1974 with ABBA, in 1984 by Herreys, in 1991 by Carola, in 1991 with Charlotte Nilsson (Now Perrelli) and again in 2012 where Loreen won singing Euphoria to the top position. 
The great Swedish Eurovision statistic is however destroyed a little by them missing out on the final once; in 2012 with Anna Bergendahl singing This Is My Life. 
You might also like to read: