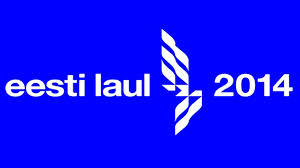 The search for the twentieth Estonian entry for Eurovision begins, with the sixth edition of Eesti Laul. Hosts Helen Sürje and Henrik Kalmet are on hand to guide us through the evening's proceedings, as ten acts become five. Both Lenna and Kõrsikud have been much touted favourites in the media, but will their entries deliver on the night?
Tallinn put on its finery tonight to welcome fans to what is the first semi final of the Estonian preselction, Eesti Laul 2014. With three consecutive years of qualifying to the final, Estonia has its work cut out in deciding on the right entry for Copenhagen, ensuring another final placement. We joined both Estonians and fans alike as they followed the first tentative steps of finding Birgit's successor.
The songs: (To read more about the ten participants check out our Get To Know article)
01. Tanja – Amazing  (T & M: Timo Vendt / Tatjana Mihhailova)
Tanja kicks off the evening with one of the few songs on offer tonight with a clubby vibe and mass appeal. She had chosen a peach and beige shoulderless rouched dress for her performance. She was flanked by three female backing singers in black and a male dancer who performed acrobatics with her while she sang. The stage was a basic black background with columns of box lights that changed colours throughout. She sings with husky tones and a nice warmth and good clarity to her voice most of the time, which counterbalances the rather cold, overall sound of the song. The mere fact that she managed to sing clearly and in tune while doing all of those exerting dance moves was a feat in itself. It's a simple enough melody to catch hold of, but the chorus is missing that certain je ne sais quoi to grab the attention of the average listener. The audience seemed to be blown away by her perfomance, but it's early days so there's nothing to gauge the audience response against yet.
02. The Titles – Flame (T & M: Rasmus Lill / Markus Rafael Nylund)
The Titles is up next with Flame, offering a distinct early 80's sound combined with a laid back club groove. Their stage was awash with red pierced by sharp white spots and rays. They all seemed to blend rather in with the background as they were all dressed in black. There were two guitarists on stage, both of whom also provided backing vocals as well as a keyboardist. Deadpan vocals from Markus became quite monotonous in the long run, and he was very much the anti performer, closing eyes for quite a lot of the show. Flame goes nowhere most of the time, only lifted by the synth riffs and the addition of some layered vocals and effects towards the end. Their stage show was extremely limp and uninspiring. One of the more stranger offerings tonight that contrary to the text would be hard pushed to evoke a love dream in anyone.  
03. Wilhelm – Resignal (T & M: Lauri Kadalipp)
The peculiarly named Wilhelm bring with them a light, delicate, airy feel with the strumming of the guitars in their equally bizarrely named entry Resignal. The band members looked extremely relaxed; one was playing the smallest ukelele ever seen! The stage was again mostly black with orange columns broken up by bright yellow lights. The male members were weraing rather drab outfits, one of the singers however was sporting a bright red floor length dress, the other was dressed in contrasting blue. The vocals were extremely palatable, with a lovely timbre to them, and Anett and Kaisa's voices went very nicely together. Theirs is a folksy sound with a slight edge to it as the guitars kick in and the tempo picks up. The overall melody however is pretty flat, failing to make much of an impression, to say the least.
04. State of Zoe – Solina (T & M: Anneliis Kits / Sander Mölder)  
There's something guite sexy and suggestive about the beats and rhythms incorporated into State of Zoe's Solina. The stage was strikingly different, so they were going all out here with what looked like an iceberg in front of the drummer and the keyboardist. Various shades of blues, purples and lilac are beamed onto the set inbetween all of the fanning white beams. Anneliis was wearing a sapphire blue dress with a sheer black top. Similar colours were reflected in her backing singer. There are some odd vocal effects including what sounds like a morphed male vocal, but the vocals of Anneliis have depth and the right dosage of soul without sounding too forced and were very strong. She seemed to love being in front of the camera. Again, Solina falls in the midtempo category, might have difficulties in getting noticed. 
05. Nimmerschmidt – Sandra (T & M: Fredy Schmidt / Andero Nimmer / Merilyn Merisalu)
Finally, a song in the beautiful Estonian language. This is another one that has a whiff of the eighties about it with its arrangement and certain sound effects such as the sudden claps. NimmerSchmidt were dressed smartly casual in red t-shirts topped by black suit jackets. They stood on a stage that consisted of black backdrop with flashing blue rays and imagery projected upon it. Lead singer failed to look into the right camera almost every single time, which didn't exactly make for engaging viewing. It's not exactly the most difficult song to sing, but his vocas carried fine from the stage. Sandra meanders along but the tune is far from strong enough to make an impact, a bit on the dull side and at this rate, Sandra is in dire danger of tripping up at the start line. The audience reacted very enthusiastically though. 
06. VÖÖRAD – Maailm on hull (The World is Mad) (T & M: Priit Uustulnd / Meiko Umal)
And so the evening continues with more Estonian, in the form of Vöörud. They had one of the more original wardrobe choices of the evening, but this time in the form of rap over a looping beat, that to be honest gets a bit manic and hyper at times, trying to be far too cool. The stage was primarily green with dashes of white and filled with dancers dressed as rather morbid looking clowns, plus the third member of Vöörud weating a back suit and tie and sporting a Darth Vader mask! Anything goes in Estonia! This is yet another entry relying heavily on synth with female wailing consituting a so-called chorus. The dancers threw themselves around with admirable gusto. The male rapper was dressed in a black shirt, baseball cap and sunglasses, the female vocalist wearing a far more elegant black satin dress. Their show was up until now a pure vitamin injection in terms of staging. Having said that, Vöörad's entry would probably go down well in a club filled with revellers off their faces. All in all a pretty out of the body experience.  
07. Super Hot Cosmos Blues Band – Maybe-Maybe (T & M: Mati Sütt / Janno Reim)
Maybe-Maybe is worlds apart from the previous entry, both in terms of style and content. We were greeted by a darkened stage only glimpsing the outlines of the band members before the stage came alight with violet backlighting and more white beams. We then got to see that they had chosen black as their colour of choice in simple black shirts and trousers. The audience were up for a good time, clapping along from the very first bar. The men were joined by three foxy backing singers in black tassled dresses who shook and shimmied throughout. It offers a far more rougher, genuine sound, with pleasingly chacteristic vocals, paired with a stripped down arrangement with a distinct bluesy feel. This could be one to watch as it is much more gutsy and has a lot more attitude than most of what's on show tonight, packing quite a potent punch.
08. August Hunt – Kus on EXIT? (Where's the Exit?) (T & M: August Hunt)
Switching back to Estonian with August Hunt, Kus on EXIT? starts off promising with a psychedlic swirling synth intro and funky guitar basslines, plus a thumping beat to boot. Lead singer Norman could well have used balsam on his hair as he just looked unkempt, despite wearing a tuxedo. All the other sic members were also smartly kitted out and they all danced around the stage, turning, spinning and at times it looked like they were doing their take on a classic ABBA video. The vocals were pretty average, if a bit screeched at times. The stage reflected their lively choreographed performance with strobe lighting and fanning beams. August Hunt get plus points for the modern sound paired with Estonian, but again, the song lacks a sense of direction.  
09. Kõrsikud – Tule ja jää (Fire and Ice) (T & M: Kõrsikud)
Kõrsikud is back, and Tule ja jää has bags of character both in terms of tune, arrangement, rhythm and "lived in" vocals. The band members were wearing headgear, a mixture of sixpences and bowler hats; one of them was wearing a striped green jacket, the member in front was wearing a black jacket and red shirt, the third a plain dark grey jacket. The lighting reflected anything but ice, as it looked like sunburst flooded the stage with orange. Again, this penultimate entry is a laid back number that lacks punch, but that is not neccessarily a bad thing, as this comes across as quite atmospheric, charming, and unpretentious. The seemed to thoroughly enjoy themselves and this was also seen in the audience, as many of them were holding their arms aloft, waving their mobiles in the air, making this a cheery and very enjoyable experience. A classic case of less is more.  
10. Lenna – Supernoova (Supernova) (T & M: Mihkel Raud)
It rests upon Lenna's shoulders to bring the first heat of Eesti Laul to a fitting end, and that she manages quite admirably. Her stage setting was a blend of blacks and blues complemented again by flashes of white and white columns. She looked stunning in a sheer black top paired with blue jeans, backed by her band members who wear wearing rather drab outfits in comparison, looking as if they'd been dragged in off the street. Supernoova has a moody, lo -fi, grungy sound, lurking behind her sliky smooth vocals. She was on top form vocally, and looked fantastic in front of the camera, with plenty of intense close up shots and plenty of gesticulation. There is something slightly epic about this song in terms of sound, with a rather psychedelic sixties guitar coming in towards the end. Lenna's song has everything going for it in terms of credentials but just falls short with its somewhat anaemic chorus.  She got the biggest applause of the night by far.
The show:  
The show got underway in the same style as last year, with all acts entering the studio down a passageway through the jubilating crowds. The scene was also the same size as last year; it was no smaller at least and opening shots revealed red and black. The hosts were the last to enter the studio, Helen wearing a fetching gret jacket with 3D floral collar (they looked suspiciously plastic) and Henrik in a suit in matching colours, with pale blue shirt, yellow tie and bright red shoes.
They got proceedings underway by wishing viewers welcome and explaining the voting proceedure to everyone before introducing the jury members before taking us back down the passageway to what looked like a rather cramped room featuring a stuffed moose, of all things! This was where two guys were sitting discussing the performance of each act together with Henrik and their discussions sounded very humourous and at times quite heated in fact; the acts sat in front of the audience in the green room, being able to see/hear all of the feedback given. As was the case last year, each act was introduced by a brief introductio, with both their names and the song titles sung against a Keith Haring inspired backdrop. Halfway through the acts, the jury members were introduced individually, featuring one of last year's participants Liis Lemsalu.
Once the last act had been dissected in the back room the lines were opened for fifteen minutes before we were given a recap of all of the entries. The interval act featured a trio of carnival clowns performing a medley of both Eesti Laul entries as well as both Estonian and international Eurovision entries in completely new versions, including quirky reprises of Rockerfeller Street, Rapunzel, Meiekundimees üks korskov laks eile lätti and Kuula. The trio were at times quite scary looking, but were actually quite entertaining.
The voting:
Tanja, Wilhelm, Super Hot Cosmos Blues Band, Kõrsikud and Lenna were the names announced, that the jury members had gone for. The excitment was mounting, as we edged towards the revelation of the public vote. Would they go for the same acts as the jury? As the final moments of the voting time came to an end we were shown some jubilant and jovial footage from the green room.
The results were handed to the hosts once both jury and public votes had been collated and the first name announced was Kõrsikud. The second name announced was Wilhelm. Tanja was the third finalist, Lenna the fourth and Super Hot Cosmos Blues Band the fifth, to rapturous appplause. For once, both jury and the public agreed completely!
Estonia at the Eurovision Song Contest:
Estonia made its debut at the contest in 1994, after having tried unsuccesfully in 1993, failing to make it through the preselection with Janika Sillamaa and Muretut meelt ja südametuld. Silvi Vrait garnered a scant two points in Dublin with Nagu Merelaine, forcing Estonia to sit out the 1995 contest. In 1996 however, they made a triumphant return with the unlikely partnership of Ivo Linna and Maarja-Liis Ilus, performing Kaelakee hääl, finishing fifth. This started a string of impressive results, including favourites such as Maarja's Keelatud maa (1997), Ines' hotly tipped Once in a lifetime (2000) and their surprise win in 2001 with Tanel Padar, Dave Benton and 2XL with the party number Everybody. A bronze placing on home turf followed with Swede Sahlene and Runaway in 2002 before the downturn came. Failing to qualify for five consecutive years, from 2004-2008, Urban Symphony's Rändajad was a remarkable return to form in Moscow, 2009, finishing sixth. The same result was achieved by Ott Lepland three years later with Kuula in Baku. 2014 will mark the twentieth anniversary of Estonia at the contest; Estonia may be small, but they pack one hell of a punch at times.