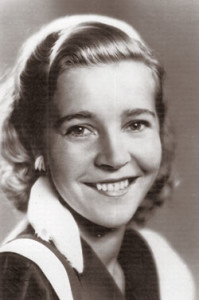 One of Sweden's most beloved singers Alice Babs has passed away just recently after reaching the age of 90. Alice Babs had a long and successful career and was Sweden's first representative at the Eurovision Song Contest 1958.
Alice Babs was born on January 26th 1924 in the town of Kalmar, Sweden. She practically grew up with music with a father who was a cinema pianist and a mother who was a singer.
She got her big breakthrough in 1940 in the movie Swing it magistern! where she performed a song with the same name. Her role in the the movie had influence in forming the youth culture at the time while older generations were horrified at this kind of music which was something totally new at the time and she was considered as a danger to the younger generation by many. Despite this Alice came to appear in more than a dozen Swedish-language films.
In 1958 she would become the first to represent Sweden at the Eurovision Song Contest held in the Netherlands where she achieved a fourth place for the country.
In the past months Alice name became a topic in media as Swedish television aired a controversial documentary called Alice Babs förlorade rättigheter (The lost rights of Alice Babs).
Alice is reported to have passed away peacefully with her closest family by her side. Alice Babs became 90 years old. More details about Alice life was recently covered in our article as she turned 90.
You might also like to read: