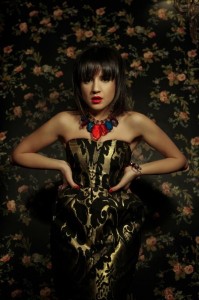 Orgesa Zaimi was a backing vocalist with Kejsi Tola at the 2009 Eurovision Song Contest where they represented Albania with Carry Me In Your Dreams.  Now Orgesa is set to release an English language album and perform at the popular Top Fest competition in Albania.
Orgesa was living in Geneva, Switzerland for ten months and has been working with Swiss producer, Domenique Meyer.  She has recorded an English language album for the European or an English language market.  The album is now being mastered at Sterling Sound studios in New York, USA.
Orgesa has been given special permission to participate in the popular Top Fest competition in Albania.  Her song is called Magnet in the Albanian language.  But the English language version will appear on her forthcoming album and will be called Don't Want You Back.
Orgesa even tried to enter Eurovision this year for Switzerland and submitted the English language song, Every Minute.  You can see Orgesa performing this song and her Top Fest 9 song below.