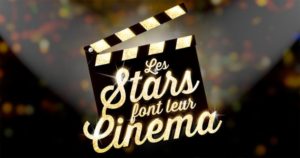 Big names from the French music scene have joined forces to offer us a brand new project called Les Stars Font Leur Cinéma. It will be released on the 27th of April and features fifteen covers of songs from the history of the cinema, some of them sung by former Eurovision participants.
The 27th of April will mark a milestone for music and movies lovers since the most popular and emerging artists in France are part of the project Les Stars Font Leur Cinéma that will make us rediscover the songs of those movies that marked several generations.
This new album, that will be released under the label Warner Music France to celebrate the 120th anniversary of cinema, features a compilation of covers of songs which have been part of the soundtracks of the most memorable movies of recent years.
Among the artists who have participated in this project there are four former Eurovision participants such as Amandine Bourgeois (France 2013) who sings a version of We Don't Need Another Hero from the movie Mad Max Beyond Thunderdome which starred Tina Turner; Anggun (France 2013) sings Calling You from the soundtrack of the German film Bagdad Café, originally recorded by Jevetta Steele; Natasha St-Pier (France 2001) sings Don't Cry For Me Argentina which was originally part of the stage production of Evita and later it was performed by Madonna on the big screen; and Lara Fabian (Luxembourg 1988) with Unchained Melody, the main song of the soundtrack of the romantic movie Ghost.
The track list of the album is as follows:
1. Irma & Tal – Streets Of Philadelphia (Philadelphia)
2. Tenny & Maska – Like A Maniac (Flashdance)
3. M. Pokora – Everything I Do (I Do It For You) (Robin Hood: Prince of Thieves)
4. Magic System – Toi Et Le Soleil (I Can See Clearly Now) (Cool Runnings)
5. Corneille – I Will Always Love You (The Bodyguard)
6. Amandine Bourgeois – We Don't Need Another Hero (Mad Max)
7. Lara Fabian – Unchained Melody (Ghost)
8. Vitaa & Maude – Danse Ta Vie (What A Feeling) (Flashdance)
9. Vincent Niclo – She's Like The Wind (Dirty Dancing)
10. Inna Modja – Son Of A Preacher Man (Pulp Fiction)
11. David Carreira & Camille Lou – (I've Had) The Time Of My Life (Dirty Dancing)
12. Natasha St-Pier – Don't Cry For Me Argentina (Evita)
13. Corentin Grevost – Oh Pretty Woman (Pretty Woman)
14. Anggun – Calling You (Bagdad Café)
15. Inaya – U-Turn (Lili) (Don't Worry I'm Fine)
The album is available for pre-order in the links below.
You might also like to read: