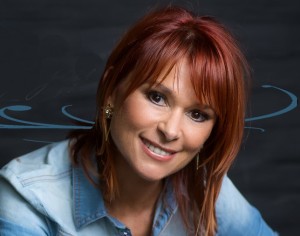 Mama Is het Eenzaam Daar?. That is the title of the second single of the forthcoming new album of Lisa del Bo who represented Belgium at the 1996 Eurovision Song Contest. The album will be called Voor Een Moeder, Door Een Moeder and it is scheduled to be released in just two days.
Lisa del Bo is celebrating her 25th anniversary as an artist with the release of her upcoming album Een Moeder, Door Een Moeder (For A Mother, By A Mother), whose first single, Stilte Na De Storm, was released a few months ago. It is a cover version of Calm After The Storm, the song performed by The Common Linnets at the 2014 Eurovision Song Contest. It is a very special version since she sings it in a duet with her son Eli.
This new single, Mama Is het Eenzaam Daar? which means Mom, Is It Lonely Out There? is a cover in the Dutch language of Stars, the smash hit by American singer Janis Ian. Its lyrics, which are really beautiful and touching, speak about a daughter who sees how her demented mother deteriorates, she feels that her mother lives in another world, a world that it is not hers and she does not know how to handle it.
Both songs will be included in her upcoming album whose track list is as follows:
01 Stilte na de storm
02 Mama, is het eenzaam daar?
03 Mama, hoe gaat het met jou?
04 Welkom thuis
05 Nooit meer kwijt
06 Een moederhart
07 Zoetste der vrouwen
08 La mama
09 Ave Maria
10 Lieve maan
11 Kindje slaap
Below you can watch the videos of Stilte Na De Storm and Mama, is het eenzaam daar?. The album is scheduled for release in just two days, on the 17th of April 2015.
You migh also like to read: