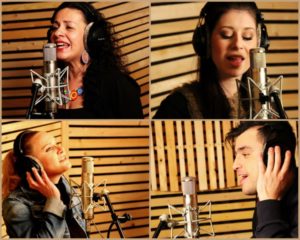 16 well known Slovenian acts are featured on the new Slove'n'aid project to raise money for Slovenia's International Development Cooperation and Humanitarian Aid. Included in this project are four former Eurovision Song Contest participants and several national finalists.
Slove'n'aid is as the name implies a Slovenian edition of the well known Band Aid projects. It features 16 established Slovenian artists of which four of them have a Eurovision Song Contest background having represented their country in the past.
The new song and video titled En Svet which translates to One World was recently released. The project is Slovenian Ministry of Foreign Affairs and is part of the European Year of Development 2015. In a press release the goal is mentioned to be: 
"promote Slovenia's Development Cooperation, the official
development assistance, which the country allocates to support the economic,
social, political and environmental development of developing countries".
The participating acts which followers of the Eurovision Song Contest will know best are:
Darja Švajger who represented Slovenia at the 1995 contest where she finished in 7th place with the song Prisluhni Mi and again in 1999 where she came 11th singing For A Thousand Years.
Nuša Derenda who also finished 7th (Slovenia's best result to date) with her song Energy. That was in 2001.
Omar Naber whose Eurovision participation came in 2005 where he with the song Stop unfortunately failed to bring Slovenia into the final.
Eva Boto who in 2012 also failed to make it to the final with her participating entry titled Verjamem
Also involved in Slove'n'aid is Katja Koren, three times backing vocalist for Slovenian Eurovision participants. Several of the others have taken part in the Slovenian national selection, EMA, before with Alya having the record for six participations in the period 2003 – 2015.
The song En Svet is written by Žiga Pirnat who have several national final entries from various countries on the CV. Some of those were in colloboration with Andraž Gliha who have produced the video to this Slove'n'aid song.
Full lists of singers taking part on En Svet: Alya, Andraž Hribar, Darja Švajger, Eva Boto, Eva Černe, Eva Hren, Jana Šušteršič, Katja Koren, Manca Špik, Nejc Lombardo, Nuša Derenda, Omar Naber, Skupina Gadi and Vlado Pilja.
Below you can watch the video to Slove'n'aid's En Svet: