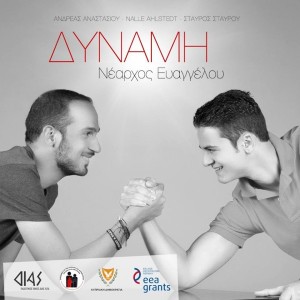 Nearxos Evangelou is a young singer we got to know through the Eurovision Song Project in Cyprus with his song Deila den agapo with Charris Savva that achieved a respectable 6th place. Nearxos since has wanted to do his part to help stop bullying and has released a new song called Dinami.
This year in Greece there has been one of the most terrible cases of bullying reported: a student fell victim of the continuous use of violence and intimidation by his fellow students. 
In early February Vaggelis Giakoymakis, who was 20 years old, went missing, from the dormitory of Dairy School where he was studying in Ioannina, Northern Greece. Unfortunately some days laterhis remains were found by a couple walking at the area of the Pamvotida Lake, some 800 meters away from his school. 
This was one of the greatest tragedies Greece has seen in years, and highlights to everyone just how big a problem bullying can prove in the country, like it can in so many others as well. 
Nearxos Evangelou who at the moment lives in the United Kingdom for his musical studies, released Dinami (meaning Strength) for all those children that have experienced this bad situation in their lives. The song is composed by Andreas Anastasiou the composer of Cypriot entry in Eurovision 2011 San aggelos se agapisa and Nalle Ahlsted and written by Stavros Stavrou. 
Below you can watch Nearxos' new song Dinami and his entry in the Cypriot final of Eurovision Song Project Deila den agapo. Nearxos informed us that this summer he will release the full Greek version of Deila den agapo.