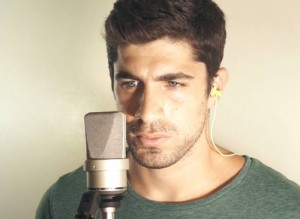 Panagiotis Koufogiannis came second in this year's Cypriot national final after winning the televoting, but missing the first position due to the juries. Yesterday he released a new video cover for Evanescence's smash hit My Immortal. He also revealed that he is actually a big fan of the American rock group.
Panagiotis Koufogiannis took part in this year's national selection, titled Eurovision Song Project, in Cyprus with the song Without Your Love. He was close to winning the ticket to Vienna as he won the televoting, but as the juries prefered Giannis Karagiannis' and his One Thing I Should Have Done, Panagiotis only came second in the final result.
Yesterday he published a cover version of  Evanescence's big 2003 hit My Immortal. About this cover he wrote on his Facebook profile: 
"It was exactly 2 years ago when the Boston Marathon bombing took place almost next to our doorway. From the rooftops of Boston, Massachusetts, this is "My Immortal" from Evanescence, one of my greatest inspirations. Round of applause and a big THANK YOU to everyone who helped me with this video. We've put a lot of effort so pleaseee SHARE it, emoticon smile, Make love, not war." 
To EuroVisionary Panagiotis told that the video was filmed two years ago while he was still living and studying in Boston, USA. Some good friends helped him with the video. Personal reasons meant he didn't release it before now. He added that Evanescence is one of his favourite groups, and he loves all of their songs.
Below you can watch his cover version of My Immortal and should you wish to check out more of his music we recommend visiting his official YouTube channel.